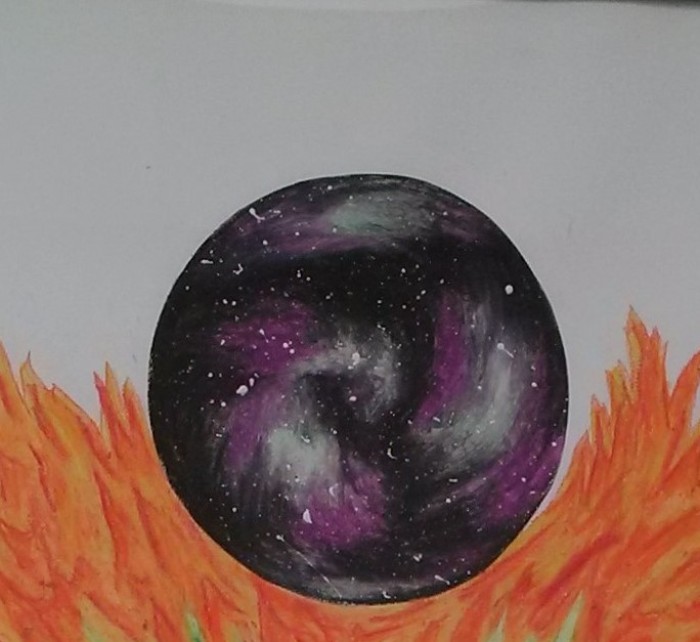 Honoring the Spectrum of Self 
On May 20, 2016 the Wild Heart Gallery hosted the opening night of Honoring the Spectrum of Self, an exhibition where Southwestern College staff, faculty, and students were invited to investigate the sacred pieces that have shaped them as an individual or within the collective. The show featured a variety of works installed within the gallery – including an interactive piece – and presentations on opening night of video, song, and spoken word format. It is our privilege to present the second in a series of blogs which showcase the shared voices of this exhibit that ran thru August 8th.
---
Artist: Chelsea Call
Title: Soul Mandala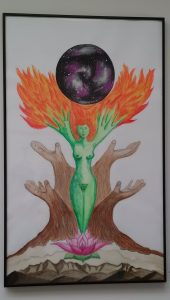 This piece of art is a visual representation of my accumulated experience and personal growth, throughout my first year at Southwestern College. While my original intention for this piece was to explore concepts in relationship to my Archetypal Psychology class, it turned into a physical portrayal of my soul on paper. 
My soul mandala is a result of many previous mandala explorations, which took place as an assignment from Robert Waterman, my Archetypal professor. Throughout the 8-week course, I went on a journey of unraveling my personal destiny and character alongside my classroom cohort, the most supportive environment I have experienced within my twenty-five years on this planet. From this space I created an art piece that mirrors my soul in its current state of consciousness. 
Everything within this piece is an archetype.  The mountains and muddy color represent earth and my intention of remaining grounded within the world in order to support myself, ultimately serving others from this place. The earth element as an archetype holds a great connection to my character in this lifetime.  It represents the place where I source my stability, self-care, and rejuvenation.  From this space emerges the lotus flower, a symbol of rebirth, detachment, and sacredness. My self as goddess arises from the lotus flower, empowered and beautiful.  The goddess archetype is a container for new life, strength, nurturing, spirit, connection, intuition, and expansion.  She is supported by four muddy, tree-like hands.  This is my ability to hold my inner goddess within this world.  My goddess's arms turn into branches, which then merge into the fire of her hair.  The element fire is a symbol of creation and destruction; the cycle of death and rebirth.  The fire physically holds and supports my destiny, represented by a cosmos sphere. An image of the unknown my destiny is to tap into the mystery and invite the unconscious to become conscious.  
My character in this world leads to my destiny, holding it with strength and beauty. This soul mandala is a representation of my ability to be at home with my own energy, a place where I can surrender and trust in my healing process.  The creation of this piece was a digestion of my exploration of self throughout my past year at Southwestern. I am infinitely grateful to be in a place that allows space and support for such a process.
About the Moderator