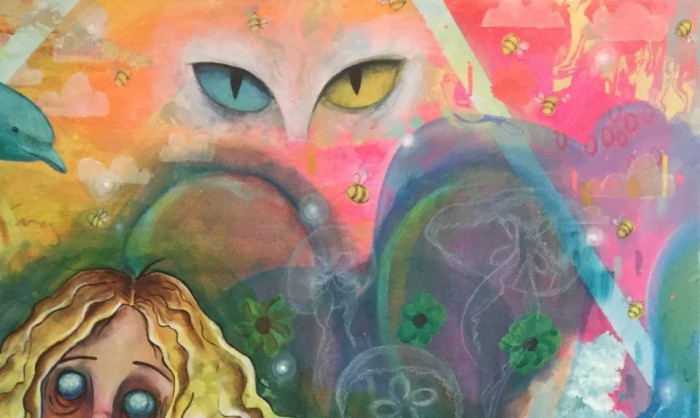 Wild Heart Gallery
The term, "manifold" can be described in a number of ways, but in application to the latest
Wild Heart Gallery
exhibition, means "having numerous different parts, elements, features, forms, etc." This show's theme centers around visual narrative investigation of Southwestern College staff, faculty, and students into the sacred pieces which formed their journey to knowing the self, community, and other. Much of the work was inspired from the experiences in the first year classes of
Multicultural Perspectives in Art Therapy/Counseling with Diverse Populations
and
Archetypal Psychology.
The opening night gala took place on Monday, May 22nd. The Wild Heart Gallery is proud to present a series of artist statements from this exhibition.  
---
Artist: Chelsea Slay
Title: A Dance with Dolphins in the Bay
What a beautiful place to be Swimming with dolphins in the sea Swimming back to her truth Back to her youth Popsicle moustache, Popsicle goatee She's the only one who doesn't drink tea Twigs in her hair, grass stained knees Uninhibited and free Tough as nails With the wind in her sails Playful and wild eyed Sunkissed on the seaside "Fly away" hair And crayons everywhere Flying off the swing …and what is that pink thing?
About the Moderator