Alumni Updates – 1996 Graduates
Home

›

Alumni Updates – 1996 Graduates
Share this: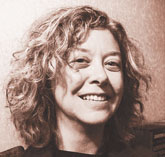 Susan Boyes, I now live and work in Ann Arbor, Michigan, where I have a part-time position as an art therapist for traumatic brain injured adults in a rehabilitation center. I also have a thriving private practice, providing art therapy to TBI clients and others in their own homes, or in my office. I find this work to be richly rewarding. It seems that the years I spent getting to this place included a long history of working with people that had some kind of brain injury. Whether I worked in a psychiatric hospital, women's prison, outreach for at-risk youth and families, special education program, community mental health center, or methadone maintenance center (yes, I have worked in all of these places!), most of the behaviors and challenges my clients faced point to brain injury. I recently began intensively researching the neurological impact of art making – having to do with neuroplasticity and actual recovery – and I find direct and hopeful correlations.
I have my ATR and Board Certification in art therapy. I remain active locally with art therapists and other healing professionals. I also write and I continue to make art.
Kate Bremer, I live in the magical Texas Hill Country (Blanco) with three mustangs and four formerly wild burros. I have an online horse products business www.foresthorse.com. I am involved in healing and advocacy with equines and other creatures.
Cecelia King is working at St. Vincent's Hospital.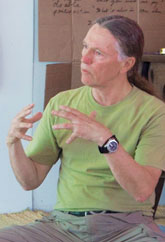 Jack Lehman, MA, LPCC 
Certified Trainer – Center for Nonviolent Communication
In Thailand, north of Chiang Mai, I worked individually with workshop participants in front of a group. It was a 2 day Introduction to Nonviolent Communication. I spent much of the winter of '10 -'11 in Thailand and gave 3 workshops there and did some individual counseling, too. Equine Assisted Psychotherapy,
 CECs approved by the NM Counseling & Therapy Practice Board. 
www.cnvc.org – 505-995-8200
www.pathwaystoliberation.net/author/jack/
Jennifer Alexander Lyons I graduated in 1996 and completed my internship in Maine. We remained in Maine and I opened a private practice. With my clients there I had the opportunity to deal with sexual dysfunctions, entrenched denial, and even possession during this period. My love, however, was to be more directly linked to spiritual development. I created a six-week running workshop called, "Developing a Healing Presence" and along with a retired surgeon gave weekend workshops called, "Circling the Soul: Coming Home to Your Self."
We moved from the Mid-Coast area to the western mountain and lakes area, and built a new home. Very soon thereafter, Bob, my husband, had a heart attack, and we retired to Green Valley, Arizona in 2003. I have taken part in many small study groups that focus on meditation, dream study and spiritual development. I am presently writing the book of my life's purpose. "
James 'Max' Maxwell and Jack McLeod were married December 27, 2004, in the Empress Hotel, Victoria, British Columbia, Canada. We are moving to Santa Fe August 1, 2010.
Wendy Ponca is currently working as the director of development for the National Indian Monument and Institute in Tulsa, OK. Please go to the website and view her project at www.nimi.us. She makes American Indian traditional art for wearing and will be in a show in NYC opening in September at the Museum of Art and Design Called "Without Reservation".
Nelson Sacristan has moved to British Columbia to work at an addictions treatment center.
Linda Schelander is currently working part-time as a clinical therapist with teens at Hogares, Inc. in Albuquerque. She also works part-time as a behavior Therapist with clients with developmental disabilities. Since graduation, Linda has worked at The Life Healing Center in Santa Fe, the Hazelden Foundation in Minnesota, and Presbyterian Behavioral Health in Albuquerque.
Ellen Taylor is working with special education children at Santa Fe High School and has a private practice specializing in trauma and EMDR.
Jill Zomerhuis works for Albuquerque Health Care for the Homeless as program coordinator for the Stepping Stones (SS) program. SS is an early morning drop-in center for homeless also provides assessment and referral, psychosocial groups, legal and general assistance clinics. Recently SS partnered with First Nations Traditional Healing program to sponsor a Native American Talking Circle and Healing Ceremony. She maintains a small caseload of therapy clients and conducts substance groups at Recovery Unlimited.