Alumni Updates – 2004 Graduates
Home

›

Alumni Updates – 2004 Graduates
Share this:
BeeBee Brinn lives in Bamberg, Germany and works with the Dept. of Defense Dependents Education Activity (DoDEA) on a US military base at a middle/high school. Beverly is working as a middle school counselor, a speech/language pathologist for 7th-12th graders, and teaching a middle school Study Skills elective class. "It is a challenging time for my students, whose parents are deploying or returning from Iraq and Afghanistan. With the Study Skills class, they incorporate social interpersonal skills, consciousness concepts and yoga. Most students enjoy the creative vizualization techniques which help them stay relaxed." Maintaining her own balance is increasingly challenging in the "combat ready" environment. "Meditating, exercising, mindful nutrition and other self-nurturing practices are all supportive, as is (your) positive energy."
Zoey Crawford has moved back to Sun Valley, Idaho. She is teaching art at the private school and working as an artist working with the encaustic medium. She has one client for art therapy and is engaged to Leland (aka Dave). In her free time she takes Nia classes and snowboards.
Melissa Fauser is still in Cedar Rapids, Iowa. She was planning to move back out west to Oregon at the end of this summer, but that may be changing due to the possibility of her current part-time art therapy job at Four Oaks turning into a full-time one.
Ed Gale has a private practice working primarily with addiction issues.
Peggy Grady has started a private counseling practice, IFS Southwest, for individuals and groups in Santa Fe. She is a trained Internal Family Systems therapist and uses an eclectic group of other modalities in her practice focusing on mental health counseling, trauma and PTSD, utilizing holistic methodologies.
Allison Hendricks is working for The Make-A-Wish Foundation of New Mexico.
Carole Jackson gave a presentation recently on Counselors as Change Agents during the New Mexico Counselors Association annual conference. The theme for this year's conference was The Many Faces of Unity in Diversity. 
Lauren Jacobs and her husband have just moved to Scottsdale, AZ and they have a new baby boy along with their two-year-old daughter. Lauren will be working this fall as a teacher's assistant at a private school. She has enrolled in a masters program in Elementary Education at the University of Phoenix and plans to work as a school counselor.
Anne Kaseman moved to Lincoln, Nebraska in July and in September adopted a baby boy, Mateo Thay Kaseman!  Grace loves her new role as "big sister"!  Her practice is now on hold until they all get acquainted with their new lives.
James McDonnell is works with Sangre de Cristo Community Health Partnership at the College of Santa Fe as a wellness counselor, focusing on early intervention with alcohol and drugs. He also has started a private practice.
Greg McNeil has written a new book The Language of Fruit, a series of 11 inspirational letters that "illuminates the heroic journey for the spiritual warrior into conscious love, personal responsibility and authenticity of being." It can be found at www.outskirtspress.com.
Melody Rice is working at Shodair Children's Psychiatric Hospital in Helena, Montana doing group art therapy with children (ages 5 -17) who are in crisis and in residential treatment. The program at Shodair is shifting from a traditional behavioral modification model to a Collaborative Problem Solving model. One of the goals of the CPS model is to avoid seclusion and restraint and instead engage the child in collaborative problem solving methods. Shodair is growing quickly and looking for therapists who love to work with children. If you are interested, contact Gary Willis at 1-800-447-6614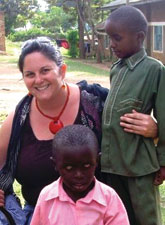 Trixie Pujol is doing early intervention work with children ages 1-4 years old in Los Alamos and Santa Fe, primarily with kids with autism, and runs a monthly support group for parents and caregivers of children with autism. She recently attended the World Autism Congress in Cape Town, South Africa where nearly 1000 people from around the world came together to share ideas and thoughts about autism. "As most of you know, I am very passionate about the field of autism and helping to raise awareness in Nairobi, Kenya about autism as well as advocating to support families and individuals affected by autism. I am a founding member of a society called Autism Awareness Kenya. "
Emma Simmons specializes in trauma and it's affect on the body, mind and soul. She has a private practice in Santa Fe. She also works at the Life Healing Center, a center for healing from addictions and trauma. At LHC she does individual 'trauma and the body' sessions and facilitates a Body Awakening group to help clients regain a felt sense of embodiment and empowerment. She recently presented a talk at the Santa Fe Public Library on Trauma and the Body: An Introductory Talk and Video Presentation on Sensorimotor Psychotherapy. She is certified in Sensorimotor and Hakomi therapy and has extensive experience in trauma and addictions.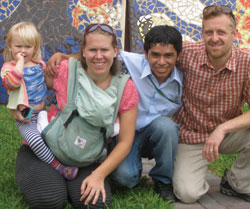 Sara (Jordan) Skowronski, LPC, ATR-BC,CAGS (certificate of advanced graduate studies in Expressive arts) I graduated in 2004 from the Art Therapy Program. Since that time I have greatly appreciated the ability of "being present" that Southwestern instilled in me as a therapist and as a person in general. Presently, my family and I, which now consists of my husband Chad, an environmental educator, and our two daughters, Isabelle age 3, and Colette 10 months old, reside in Fort Collins, Colorado. We run an international organization called We Are Mosaics, that is dedicated to building creative communities through the making of mosaic murals. We just came back from Switzerland where I completed a certificate in advanced graduate studies (CAGS) in  Expressive Arts and where I am pursuing my PhD at the European Graduate School. We were also recently in Peru, where I presented a workshop From Broken to Beautiful: Mosaics as an Expressive Arts Therapy, at the International Expressive Arts Therapy Conference (IEATA) in Lima, Peru.
Currently, I work in a private practice setting, where I use art therapy to help children, adolescents, couples and families discover their hope and work toward their dreams. I feel the solid foundation that Southwestern nurtured within me and I rely on these skills daily.
My light figure experience taught me the gift of ceremony and reminds me to rejuvenate myself in my own "light" connections. As a full time therapist my resource of being able to rejuvenate is invaluable. The picture is me, Chad, Isabelle Colette and participant Carlos in Lima Peru, at the IEATA conference in front of the mosaic we co-created. 
Debbie Upton had twins on June 3, 2007, a boy and girl, Zach and Zoey.
Jenna Viscaya participated in a panel at the Albuquerque Bioneers conference examining "Revolution from the Heart of Medicine". She also presented at the UNMH sponsored annual Consumer Wellness Conference on Alternative Medicine.
Tara Zanghi  is working at the Sky Center as a Family Therapist and building a private practice.