By Ruth Dennis
Years ago, I saw a line that art can save your life.  At the time, I just thought it was another artist being arrogant.  The art world seemed disappointing and trivial when looking at the problems that I saw everyday in the neighborhood I was living in at the time, homelessness, addiction, violence and poverty.  The world of galleries, grants and shows seemed to be just a distraction from what we really needed to face and heal.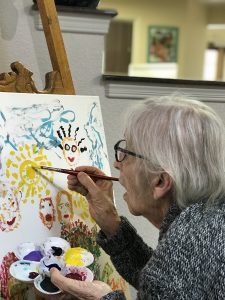 Over the past 30 years my perception of that line has changed.  Now in the time of pandemic, Art really does save lives.  Art becomes a way to find connection, sort out problems, create new roles and ways of living and process grief.  I have seen Art heal over and over.  I have seen Art give people a new identity in the face of addiction, grief and dementia.  I have seen simple drawing processes allow a mother and daughter to have a conversation for the first time in years.  I have seen families make quilts together and heal relationships.  The elders I have worked with for more than 20 years use art to have conversations, re connect with friends and families, create a new role for themselves in the face of life ending illness and to have fun. 
Art becomes many things, an outlet for frustration, a celebration of joy, a connection to the senses, a way to share with others, a way to find meaning in a world that no longer makes sense.  Painting, music, poetry, dancing, pottery, sewing, and video literally save lives right now.  The homes that we create and share during this time of isolation are lifesaving.  While being locked down in our Vista homes our elders have learned and grown.  Elders have completed a mural, picked fabric and colors for staff to sew masks, shared music and dance with our community and others, they have stayed connected to life through creativity. 
Watching all the media stories of death, loss and mismanagement in nursing homes an assisted living homes saddens me.  We need to find better ways to do care.  This is true.  This pandemic has shown in the most horrible way possible what is so wrong with the systems our society has created to care for elders, children, families and communities.  But there are other stories out there.  These stories are ones of integrity, kindness and hope for the future.  These stories are about commitment, beauty, focus and mostly about love.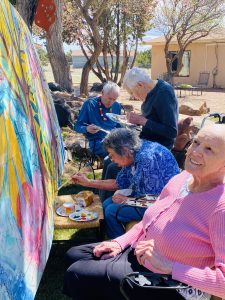 The heroes that I work with at Vista, in our community of Santa Fe, elders, families and friends are telling a very different kind of story from the death, loss and mismanagement that is so often pictured on the news and Facebook.  They tell a story that is about using both creative and commonsense ways to make a real difference every single day.  To fix the problems we face right now, we need to see these stories too.  Art, music, good food, laughter, commonsense and hard work are keeping elders safe.  Families are staying connected.  Caregivers, both family and professional are getting the support they need to keep going.  There are very responsible people out there doing amazing work.  It is time to celebrate them.  Art, love and hard work really do save lives.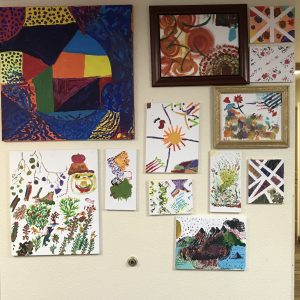 My name is Ruth Dennis.  I am currently an Educator for all our lovely Vista Living Care homes.  My role is to provide support and education for families and for our greater community as we face all forms of dementia and struggling with the aging process that their loved ones are facing.  I have also worked in mental health, the Arts and Community Education for more than 30 years.  This work history has included receiving two National Endowment for the Arts funded grants, implementing creativity and healing programs for gifted and at-risk children, recovery programs and transitional homes that serve homeless, mentally ill adults, and elders facing dementia.  I have worked closely with and researched palliative care, hospice and grief support.  This journey is both professional and deeply personal.  I have been given the honor to educate our Community on the need for a balanced, loving, creative caregiving.  This has allowed me to fuse my life as a painter, gardener and most of all; the sister and caregiver to my brother Morgan, who had Down's syndrome, with my professional work.  Morgan was my hero, the bravest man that I have known; a wonderful artist who had a deep connection to animals, babies and science fiction.  He passed away peacefully in our home in December of 2019.  Morgan's heart and spirit live on in the work that we are so deeply committed to at Vista.
Ruth has a Master of Arts in Art Therapy, MA, Southwestern College, Master of Fine Arts, Ceramics, independent study in Architecture, and MFA, Cranbrook Academy of Art. She is also a Certified Dementia Practitioner, CDP. Additionally, Ruth is an Artist in Residence for the following: Bemis Foundation, South Carolina Arts in the Schools, Rehoboth McKinley Christian Hospital, Vista Living Care from 1999 to present. She has served in positions that include but are not limited to; Recreational Director, Social Services Director, Community Education and Support, Artist in Residence, and is currently the Director of Education. Ruth also has published Mindful Dementia Care, Lost and Found in the Alzheimer's Forest; Golden Books/Terra Nova Press 2018, and co-authored with Velma Arellano and Luke Nachtrab.
About the Moderator