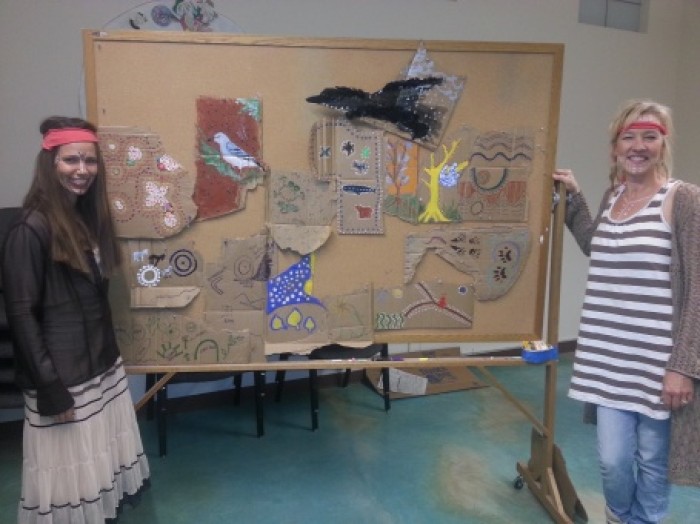 Amy Hautman Bates, first year Art Therapy/Counseling student on her transition from Artist to Art Therapist
http://artforwellness.wordpress.com/2012/10/11/australian-aborigines-and-art-therapy/?preview=true&preview_id=53&preview_nonce=cecf41a352
  I started this blog intending to write about the creative art's health and healing potential. Having been around art all my life, I thought I knew a lot about Art Therapy. But the more I read, the more fascinated I became, and the more I realized how little I knew. This blog is about my journey from full-time artist to student at Southwestern College to Art Therapist… and whatever happens along the way.  
We brought a taste of Australia's Aboriginal people to Southwestern College for our History of Art Therapy class. We couldn't find any kangaroo meat, swollen abdomens of honey ants or witchetty grubs, but shared other Bush tucker foods like macadamia nuts, cranberries and Damper (bread/doorstop). More importantly, we discussed Dreamtime creation legends of this rich civilization. Unlike our American culture, the Australian Aboriginals do not separate physical and spiritual, past and present, man and nature. They are all interrelated parts of a whole. They believe their ancestors are born again in the form of plants, animals or humans, making everything sacred. How comfortable it must be to feel no more or less important than the ground you stand on. The dream stories give the people a sense of order and connect them in mind, body and spirit. This is why we make art and one of the reasons art therapy works as a healing practice.
Dreamtime stories are passes on through the generations solidifying their sense of identity and informing the social structure of the community. This telling of one's personal story is another empowering component of art therapy.
Maybe connecting to themselves and their world is how the Aboriginals have survived 40,000 years in spite of the European's 200 years of enslaving them and stealing their children. That's a blog for another day.
About the Moderator