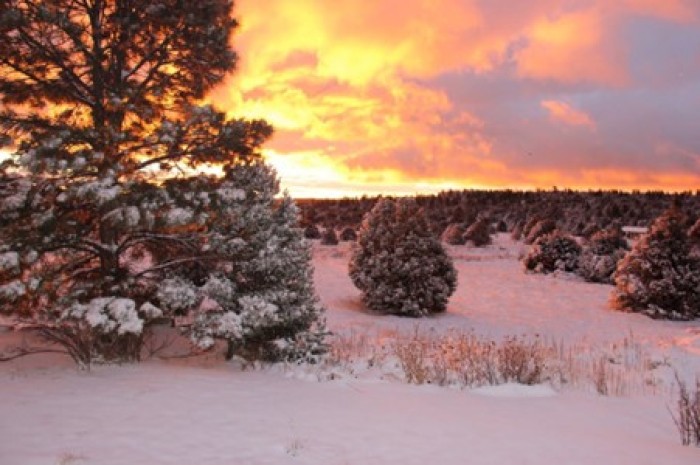 Here in New Mexico, we get an equal amount of all four seasons. Our summers are filled with heat and sunshine. Our autumns are crisp golden and orange with perfect harvest weather. Our springtime is windy and fresh with blooms all over the place. Our winters experience snow, ice, and frosty temperatures. This has a huge positive draw of winter sports! Northern New Mexico offers some of the world's best terrain for snowboarding, skiing, snowshoeing, off-roading, hiking and outdoor ice-skating! The snowy winter landscape is breathtaking and worth delving into fully. The thing that sets New Mexico apart from other states that get lots of winter weather, is our infrastructure for navigating around the ice and snow is less than places like Chicago or New York City.
This means when there's a bit of freezing rain or even three inches of snow during January and February, in Denver it might be a piece of cake to clear roads and get on with life, but less so in NM. The big main roads and touristy areas will get a plow and a layer of sand.
The funny thing is NM weather patterns can leave one ten-mile radius with snow and not affect the next ten-mile radius. The place of work could have less than an inch of snow, but the place of residence could have 7 inches! New Mexico doesn't have snow or ice consistently or frequently enough to become masterful drivers in these conditions, so this makes the NM driving population less than professional snow drivers…so be careful.
There is a basic rule of thumb us NM drivers live by, which is freezing hours. Since during the day, the sun will come up and melt a lot of the snow away, this leaves black ice on roads as soon as the sun goes to sleep for the night. From 10 am-4pm is generally sunny and warm enough to eliminate the black ice but use extra attention after a day of melting snow when the sun goes down.
The best resource I have used all my driving life is the website nmroads.com; use the 'Road Conditions' tab and the 'Cameras & DMS' tab. This way I can look ahead on route in real time to see the roads I plan to drive on as well as become aware of any closures or difficult driving conditions. Other snow and ice driving tips: keep a bag of road salt or cat litter in your vehicle, as well as tire chains, a shovel, keep your phone charged and a have a blanket. Keep extra distance behind vehicles in front of you on ice and don't slam on the brakes. Pro tip: Practice driving in snow and ice in a big empty parking lot where you can learn to slip and slide and feel how the vehicle moves, so if it happens on roads you don't panic. This can simply be a fun winter activity!
If you don't live in NM, there is a lot of appeal to move here! The weather mostly is dry, so our wet/icy roads occur maybe 12 days out of the whole year. If you plan to live in NM, the best tip to enjoy effortless driving is get a place in town near work and school. Better yet, drive an all-wheel drive or four-wheel drive vehicle. With simple planning in future purchase of vehicles and residence as well as place of employment, you can let your focus be on important things and not on the roads.
Tya Bussell is a MA Counseling student and a Graduate Assistant at Southwestern College. 
About the Moderator