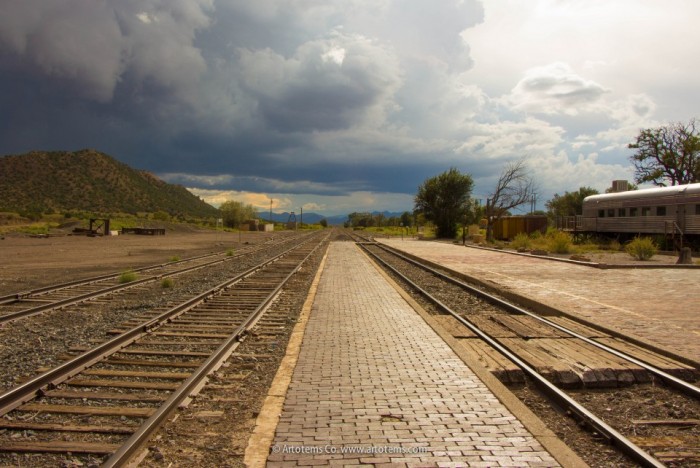 When I got accepted at Southwestern College (in Santa Fe), I had been living in Albuquerque for about a decade. My wife and I felt quite comfortable in Albuquerque, and we were not inclined to move to Santa Fe. It was clear that I would be commuting; the question was, how?
The Rail Runner train was an attractive option, and it's the option I ended up using. I had trouble finding much information on how this might work, so I had to figure out everything on my own. If you're thinking of commuting from Albuquerque, I hope this article might be helpful.
Schedules and Timing
The Rail Runner train schedule actually works pretty well for most classes at Southwestern. For most morning and evening classes, the schedule actually works out perfectly.
For afternoon classes, you will end up arriving at Southwestern a few hours ahead of time, which actually isn't bad at all. Over the course of the last couple years, I've gotten a lot more relaxed about things like this. It's just the nature of public transportation that the timing is not going to work out perfectly all the time, and you will occasionally have to wait a few hours for a class to start or a train to arrive. Just bring some books or a laptop and you can get some work done in the library or student lounge.
Evening classes followed by morning classes the next day are tricky. Avoid this when you can, and when you can't, do what I did—use AirBNB to stay overnight in Santa Fe. Either that or prepare to not get much sleep.
The trains mostly run on time. Occasionally, they will get 5 to 10 minutes delayed. Once in a while, they get seriously delayed. However, in a year and a half of commuting by train, I've never missed a class due to a train delay. I think I was five minutes late for a class once. The trains and the Albuquerque buses both have Twitter accounts that you can access by phone to get the latest updates on train and bus delays.
Getting to and from the Train
This is the tricky part. On the Albuquerque side, I have used the Albuquerque bus system to get to the train station. I was able to do this without having to transfer buses. My bus took me to the downtown Albuquerque Transportation Center, where I could catch the train. This option does work; the downside is that it added about an hour a day to my commute. On the Santa Fe side, in theory, there is a bus that goes straight from the South Capitol station to Southwestern's campus, but I've never taken it. Taking the bus to school would have added enough time on the Santa Fe end of the commute that I wouldn't be able to make it to classes and trains on time.
The option that I have found works the best for me is to use a car on either end of the commute. I've been driving a car to the Montano station in Albuquerque, parking there, taking the train to the 599 station in Santa Fe (to get to the main campus) or the South Capitol station (to get to the counseling center on St. Michael's), where I have a second car parked, which I use to get to school. This is definitely more time-efficient and easier than taking the bus. I have never had trouble finding parking at the train stations; the parking lots are usually less than half full.
Security and Safety
Security was obviously a big question mark for me when I was considering leaving cars parked at the train stations for long periods of time. The cars I've been using are both over 15 years old, and I don't leave anything valuable in them. In a year and a half of commuting, no one has ever messed with them.
Obviously, there is some risk in leaving your car parked in the train parking lots for long periods of time. However, if the alternative is commuting by car, you have to also consider the risk involved in driving back and forth on the highway every day.
In over a year of commuting by bus to the downtown Albuquerque station, I never felt seriously endangered by any of my fellow commuters. However, I frequently felt wary—especially at the downtown Albuquerque Transportation Center, where I was often asked for money. The Montano station feels a lot tamer.
On the trains, I always felt safe. Each train is patrolled by a security guard. I definitely feel a lot safer on the trains than I do on the highway.
Cost
A student-rate monthly pass for the Rail Runner currently costs me about $45. On the Albuquerque side, the buses will honor a Rail Runner ticket, so you get to ride the bus for free.
I love taking the train to Santa Fe. The scenery is beautiful, and I get to relax and get some work done (there are many tables and electrical outlets on each train car). It's less expensive and safer than driving, and it's better for the environment. Thank you, Rail Runner!
Photo Lamy Railroad Tracks (by Artotem) is used under a Creative Commons Attribution 2.0 Generic license.
About the Moderator