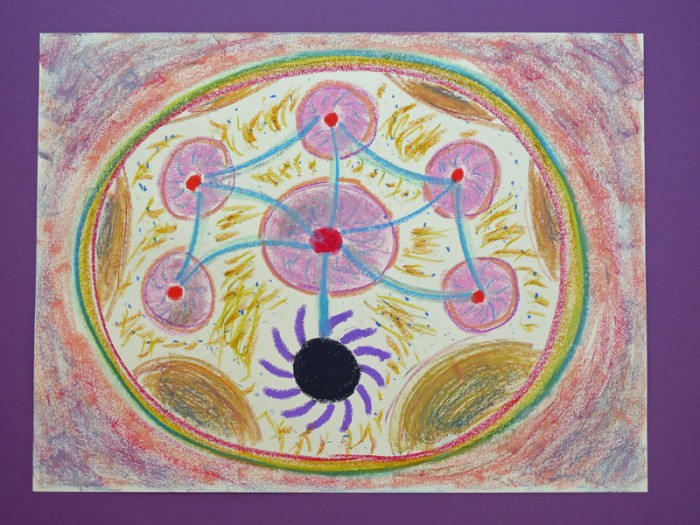 In the summer of 2014, I took "Foundations in Human Science Research" with Michael Schwab at Southwestern College. As part of this class, I wrote a research paper on spiritual awakening. This paper was based on 10 years of personal experience exploring spiritual awakening (through meditation and other forms of spiritual practice) from 2004 to 2014.
Spiritual awakening is a subject that is dear to my heart and of deep personal significance. I'm delighted to be attending a school where there is space for my intellect, soul, and spirit!
Below is an excerpt of my paper. The image above is a mandala I created for Archetypal Psychology class. The black circle represents non-dual unity; the red circles represent interconnected hearts.
Shifts in My Personal Understanding of Spiritual Awakening
Below, I compare various understandings of spiritual awakening that I had in 2004 to my present understandings in 2014.
Teachers:

In 2004: Finding a compatible spiritual teacher and working one-on-one with her/him is important for awakening.

In 2014: While working one-on-one with a compatible spiritual teacher can be helpful, awakening is also possible with the support of informal relationships with compatible peers. Awakening may also be possible through independent study and practice alone, but I believe this is a much slower and more arduous route.

Conceptual understanding:

In 2004: Awakening cannot be understood conceptually, and trying to do so is not helpful for awakening.

In 2014: Awakening is a shift in identity and perception fostered by a recognition of the mysterious nature of awareness and subjective experience. In order to recognize this, one must look; thinking (without looking) doesn't help. However, awakening does precipitate shifts in conceptual understandings of self and reality, so comparing one's understandings to the understandings of others who are further along a path of awakening can be helpful for assessing one's progress along that path.

Non-dual unity:

In 2004: Awakening involves "becoming one with everything". It's not clear what this means or what the experience of this would be like.

In 2014: Awakening involves identifying with awareness and recognizing the unity (or non-duality) of awareness and subjective experience; so when one is awake, one is identified with everything that one experiences (and in that sense, one is "one with everything"). This is distinct from the recognition of the interrelatedness of all things that can arise through the study of systems theory.

Change in perception:

In 2004: After one awakens, one perceives the world differently. It's not clear what the experience of this altered perception would be like.

In 2014: Awakening gives one access to a new way of experiencing life. Before awakening, most of us experience ourselves as human bodies—having subjective experience and existing in objective reality. Awakening allows one to experience oneself as spirit—the unity of awareness and subjective experience—in which, and as which, experiences of objective reality (and other realities) may arise and subside.

Difficulty and complexity:

In 2004: It's not clear whether awakening is possible for me or how long it will take. It's not even clear whether anyone alive today is awake. Awakening may require very complex spiritual practices.

In 2014: Awakening is possible. The practices required for awakening are fairly simple, but finding those practices may not be easy, and performing them requires some time and effort. Awakening itself challenges conventional views of self and reality; it will be experienced as emotionally challenging to the extent that one is emotionally attached to these conventional views.

Permanence:

In 2004: Once one awakens, one is always awake.

In 2014: Once one awakens initially, one starts continually "falling asleep" and "reawakening". This may occur many times per day. Daily spiritual practice is required to support reawakening, but reawakening occurs with much less effort than one's initial awakening.

Relationship to cessation:

In 2004: Awakening may require the cessation of cognitive processes.

In 2014: The cessation of cognitive processes may have some benefits, but cessation is not sufficient for awakening. Slowing cognitive processes and bringing mindfulness to them facilitates awakening by freeing attention from automatic, habitual processes like thinking. However, for awakening to occur, attention must be directed toward inquiry into the nature of self, awareness, and subjective experience (via insight practices).

Relationship to personal growth and healing:

In 2004: Awakening may facilitate personal growth and healing via unknown mechanisms.

In 2014: Spiritual awakening does not automatically make one's personality "perfect". People who are awake are quite capable of acting destructively and causing harm. However, awakening does accelerate personal growth and healing by bringing awareness—a healing force—to one's own psychological processes. Awakening also reveals ways that awareness itself is perfect. Awakening can reduce existential anxiety (fear of non-existence) as one recognizes a new identity more fundamental than one's body and personality: indestructible spirit. Awakening does not replace the personality, but builds on it—so there may be a danger of psychosis if awakening is attempted without first developing and consolidating a stable, functional, integrated personality.

Relationship to paranormal abilities:

In 2004: Awakening may facilitate paranormal abilities via unknown mechanisms.

In 2014: Awakening itself does not automatically give one paranormal abilities. However, awakening may free one's thinking so that one may more easily accept the possibility of the existence of paranormal abilities. Furthermore, practices that support awakening may also support the cultivation of paranormal abilities. It's possible to have paranormal abilities yet not be spiritually awake (as I define spiritual awakening).
This has been an excerpt of my research paper on spiritual awakening; to read the complete paper, download it here. To learn more about me and what I'm up to, please visit my website.
About the Moderator