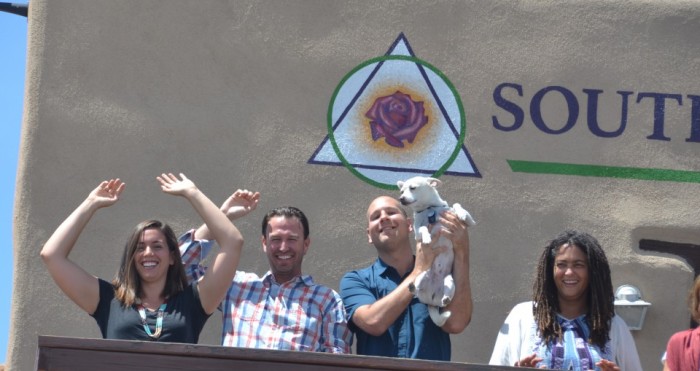 Discovering Your Inner Puppy: Dog Therapy and Inner Child Work
by Sylvan Schneider
The biggest impact on my personal development was from my last dog who passed away a few years ago. He was a Chihuahua-Jack Russell mutt named Monty; he came to me in the woods as a stray covered in flees when I was fourteen years old. Monty taught me what Carl Rogers called "unconditional positive regard", and what the practice of Buddhism calls "loving-kindness". No matter how I acted, what I was going through, what I did, how I looked, Monty dog was always there for me, full of unconditional positive regard and loving-kindness. There were rough chapters in my life, and Monty never left me. I saw how little it took for Monty to be happy and healthy–just love from me, food, water, warmth, attention, and shelter–that was all he ever needed. Seeing Monty's simple needs showed me that many of life's pursuits are unnecessary, and that happiness is found in the simpler realms of life.  Monty lived to be seventeen years old and died in my arms when I was twenty-eight. At the time of Monty's death I was coming out of a very difficult relationship, and was unemployed. I felt lost and confused.
Monty dog appeared in a dream I had and led me up a trail in Tent Rocks National Monument, located close to Santa Fe New Mexico. I had visited Tent Rocks years ago on a vacation and felt a profound connection to nature and the universe on that trail. In my dream, Monty took me through the ancient majestic slot canyons to a wooden sign post on the mountain top above the tent rock trail that read "Santa Fe". He then looked at me with a toothy grin, wagged his little tail and pointed at the sign, and suddenly I awoke. What flashed in my mind the second that I woke up was "Google counseling in Santa Fe." I did and found Southwestern College; this was the answer I was looking for. Since age twelve I had always wanted to be a counselor but never made it happen until I had this dream.
 Inner child work is deeply therapeutic for many people, however as a dude, for me it did not come easy. I felt strange having dialogues with empty chairs in a therapy office and talking to my inner child as my inner teenager or as my inner parent. I know there are better methods of doing this sort of work taught by John Bradshaw and others, but when I tried this work I was nineteen with an average old-school therapist in New Orleans, Louisiana. It was mediocre at best.
It wasn't until I was really being present and living in the now (as Eckert Tolle would say) with my dog Monty that I realized he would act like a little puppy and roll around in clover patches, catch butterflies, and allow himself to act like a puppy. Despite his old age, he could still let go and be a playful little boy. I found that I could connect with him in different ways when he was acting puppyish and that I would try acting like a child around him, and then he would snuggle up to me, lick my face, and want to play wrestle with me. I felt that this was what helped me become in touch with my inner child and embrace that part of myself. For Monty, he would naturally shift from old doggy, to young (time to hike and play) dog, to his puppy self. From Monty,  I learned to have a similar natural flow of my inner sides from inner child to inner adult, to inner grandpa, to inner parent, all in harmony.  
Since then I've relocated to Santa Fe, New Mexico and am a graduate of Southwestern College. I now have a  little Chihuahua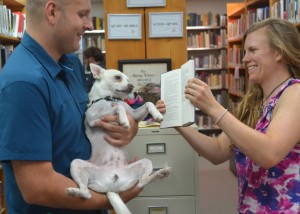 mutt named Buddy. Buddy was a rescue dog from a young owner who had to give him up due to drug addiction. Buddy was loved by his original owner, but was given to a home where he was neglected, hardly fed, and kept outside for about a year with hardly any attention or love. Buddy was rescued and became part of a big dog pack in a large yard outside a trailer. The people who ran the dog rescue took good care of Buddy, but while he was living there he started to have seizures. Since I've adopted Buddy, he has not had a single seizure, and has transformed my life in the same special way that Monty did with loving-kindness and unconditional positive regard. Talk about psycho-social disorders– living with up to 30 other animals who are abused, neglected, and strays constantly coming and going, is bound to have some sort of impact.
Buddy has helped me to further the relationship with my inner child, and helped me to not live in my thoughts all the time, to go outside on walks, be present, live in the now, and enjoy life's simple pleasures. When Buddy chases lizards, licks flowers, curls up his tail into what I like to call his "donut tail", and chases bugs, I laugh and feel like a kid watching him. I stop dwelling on how can I make more money, or how can I find the right relationship, and am content knowing that in this moment life is wonderful with my dog. I also feel dogs help many people develop secure attachments, and repair old wounds. For me, the best therapy has been dog therapy, and as a dude who thought inner child work was hard to do, it came easy and natural for me by spending quality time with my dog, letting go, and acting like a kid with him.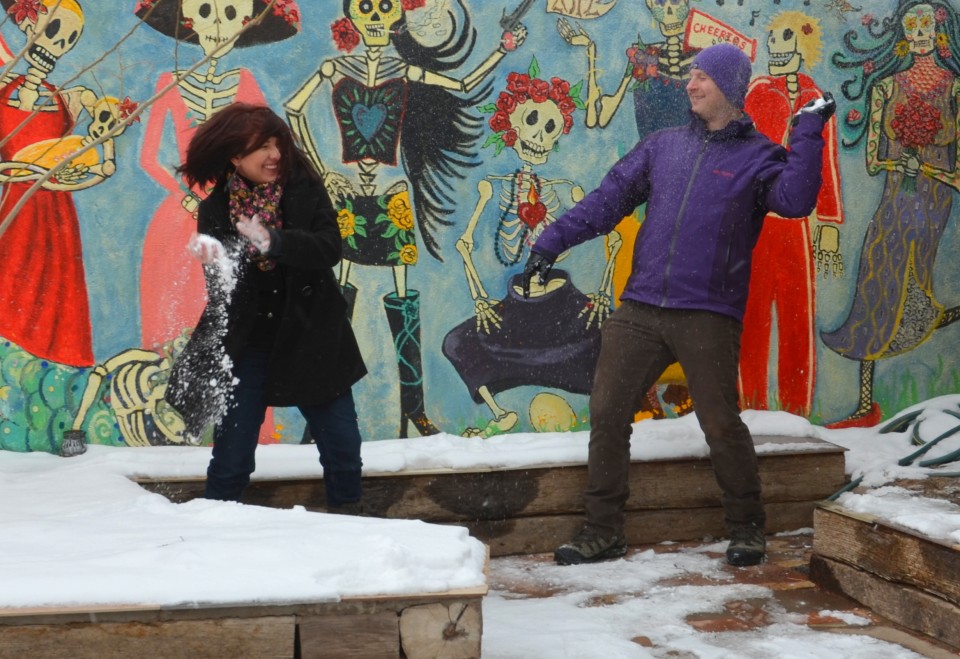 About the Moderator