Southwestern College & New Earth Institute launched their first Ph.D. program, called Visionary Practice and Regenerative Leadership. This program embodies three life-changing residency experiences that include Seeking, Gathering and Grounding, and Crossing the Threshold. As one of fifteen students, I attended the first residency of our first cohort, "Seeking," in early September of 2022.
On a bright, beautiful day, I stepped out into the sunlight at the Santa Fe airport. This was it. I arrived for my week-long residency. Bubbling with a mixture of excitement and anxiety, I scanned the parking area for my shuttle bus, which appeared in less than five minutes. How magical, I thought! Greeting the driver and the single passenger, I happily took my seat. Opting to arrive the day before residency began would provide me with time to get grounded and explore Santa Fe. Lost in thought, I peered up to see the single passenger speaking directly to me as she inquired, "You don't happen to be one of the Ph.D. students here for Southwestern College?" Before we stepped off the bus into our hotel, we had formed a bond, and I knew Colleen and I would be more than student peers. We were becoming friends. As I met more fellow students at the hotel, more bonds began to form. Never in my life have I been surrounded by so many visionaries, destined to collectively cultivate the vision seeds of our dissertations. We were becoming a community cohort before we even formally began.
Our group would spend time exploring the college campus, which we each agreed radiated a spiritual sweetness of welcome. Here we would both start and end our residency on campus grounds. The conclusion included presenting as students and faculty our personal stories through a method called "PechaKucha." Together we would share wonderful meals catered by local restaurants, as lively conversations sparked and we exchanged rich content, invigorating ideas, and fresh connections. Being matched with our first-year mentors and ending with several shared activities and ceremonies concluded our time. It was heart-wrenching to bid farewell during those last few minutes of our residency journey.
At the center of our start and end on Southwestern campus would be our collaborative stay where fifteen students would call Truchas Peaks Place home. Ann Filemyr, Ph.D. – Doctoral Program Director, Marna Hauk, Ph.D. – Doctoral Program Associate Director, and Robert Waterman, Ed.D. – President Emeritus of Southwestern College joined us as they led our schedule, including classes, discussions, and activities. Together, we began on a journey of our vision seed exploration. Artfully prepared meals by Chef Tanya nourished us each day. The landscape at Truchas Peaks Place is breathtaking, and I found myself propping open my bedroom door inviting the scenery to dance with me as I walked in and out of the doorway. The fresh mountain air filled our lungs as we often enjoyed conversations and meals outside.
During our time at Truchas, we shared much more than a living space. As we built our cohort community, we shared our stories, laughter, tears and hugs, smiles and support. Together we became a powerful cohort: a spiritual force of love, overflowing with kindness and compassion. We unknowingly were laying the foundation of a safe, nurturing environment of exchange. Today the residency bonds are vibrant whether meeting for class via Zoom or communication through text, call, email, or direct messages. We are continually sharing resources, conversations, and support daily. Our connections are actively building a network for our life's work.
This was more than a Ph.D. residency. This was a life-altering experience, where each of us walked away forever changed. Cultivating our friendships that would support us through it all, we became a family.
Susanmarie G. Oddo
BFA, M.A., Ph..D student in Visionary Practice and Regenerative Leadership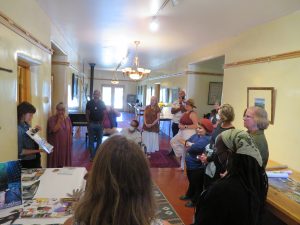 About the Moderator