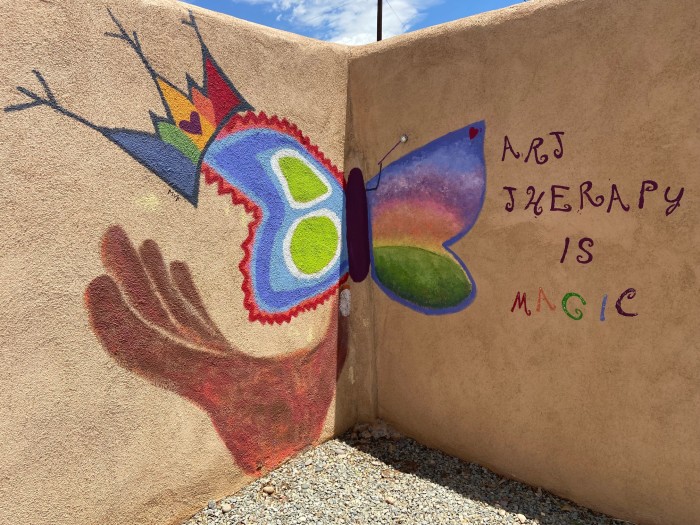 As I move towards facilitating my last mural painting process at Southwestern College, I am thinking about relationships, legacy and love. Debbie Schroder and I have co-facilitated this process since 2013, and since the pandemic of 2020 the process has undergone many changes (see Group Murals During a Pandemic and Cracked Wide Open). 
The mural process that Art Therapy/Counseling practicum students engage in, begins the goodbye process. It is a way to support students in their transition from being a student in a transformational program to a transformational professional! The mural painters are asked to reflect on the legacy that they want to leave behind and the messages that they want to share with incoming students. As they work in groups, they also have the visceral experience of creating in a group, which offers the opportunity to imagine how to facilitate a similar group process. 
March 2022 was the last mural painting process that Debbie and I co-facilitated! As you can see below, we have had so much fun working together. And this was the first time that the two of us painted on the walls of SWC! Why it took is so long to do so, is uncertain. Debbie left her role as Department Chair of Art Therapy / Counseling that same month, and moved on to working as a full-time clinical supervisor in Northern New Mexico. 
This quarter, Summer 2022, Jennifer Albright & I are co-facilitating the Capstone Process. Half of the students are taking the course at a distance and half are local to the college. Stay tuned to what shows up on the walls and digitally!! 
March 2022: Below are the images and words of the murals created, including the work that Debbie & I did together: "Art Therapy is Magic."
Art Therapy is Magic
Side by side, we were able to show up as we are.
Putting together our two halves of a butterfly, created unity.
Butterfly is transformation. Butterfly is messages from spirit. 
We both think of our grandmothers when we see butterflies; they show up when we are struggling.
The hand offers a landing place. And the crown affirms the butterfly's journey. 
The wand is a reminder that when art shows up, it is mysterious and it can't be confined.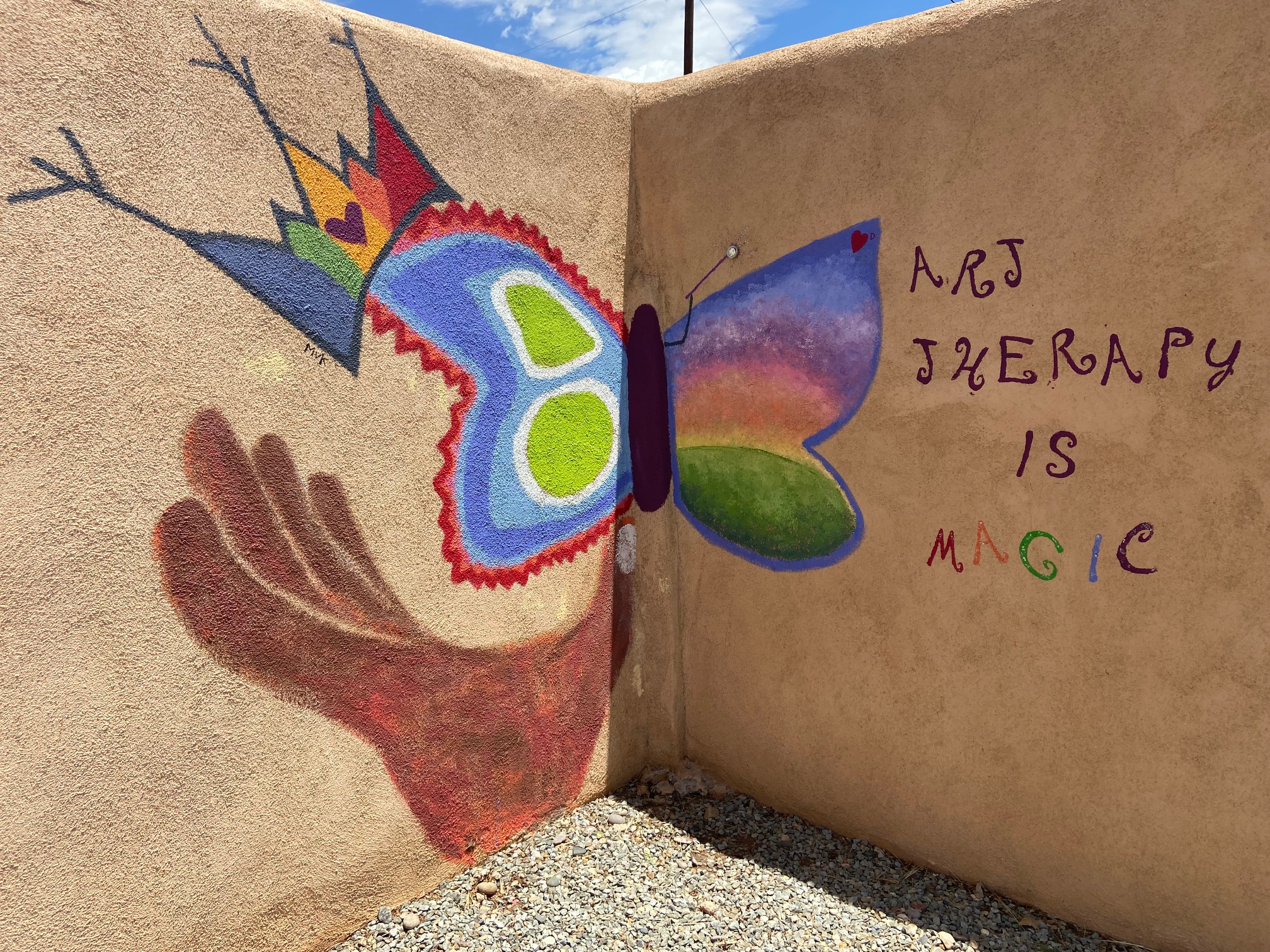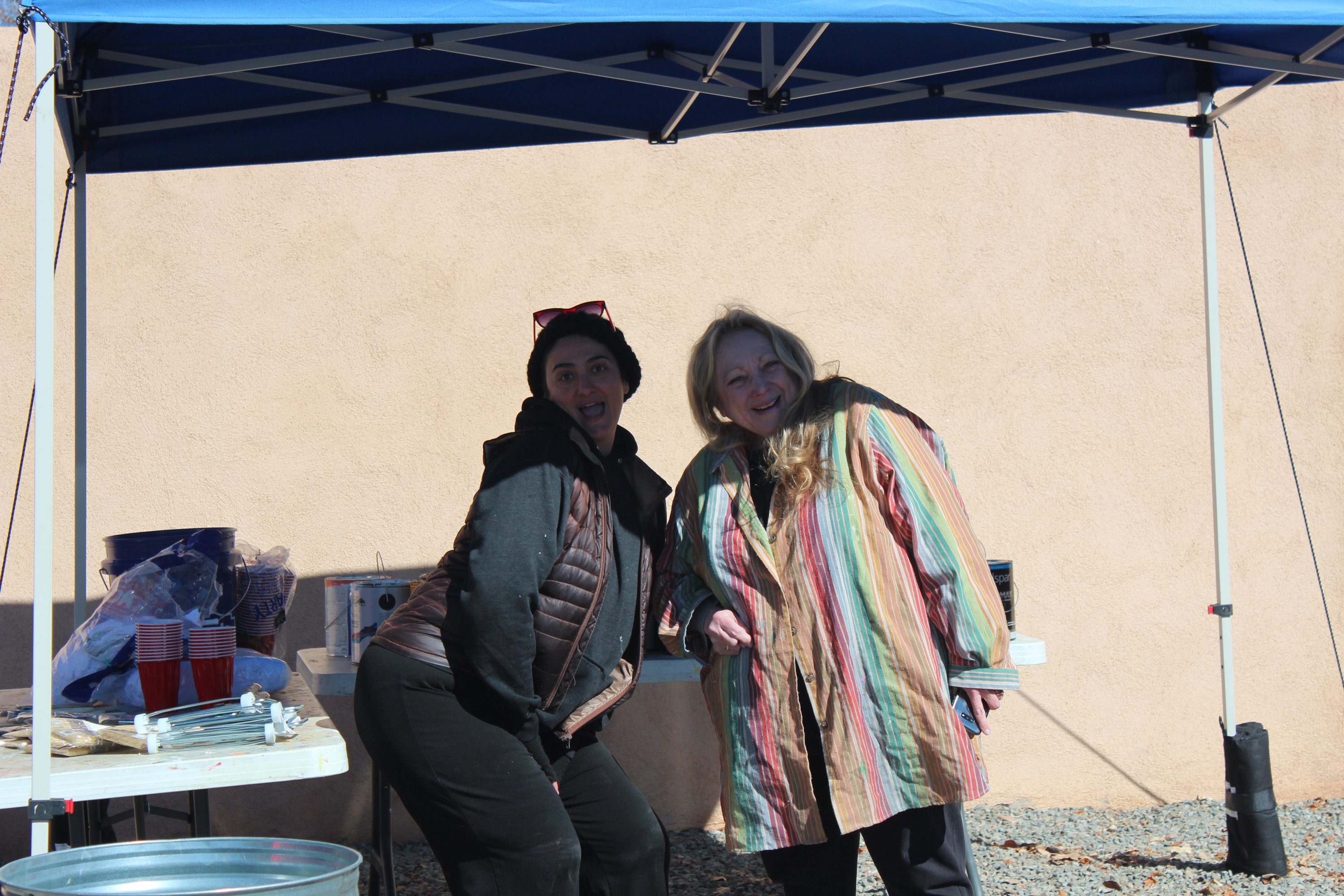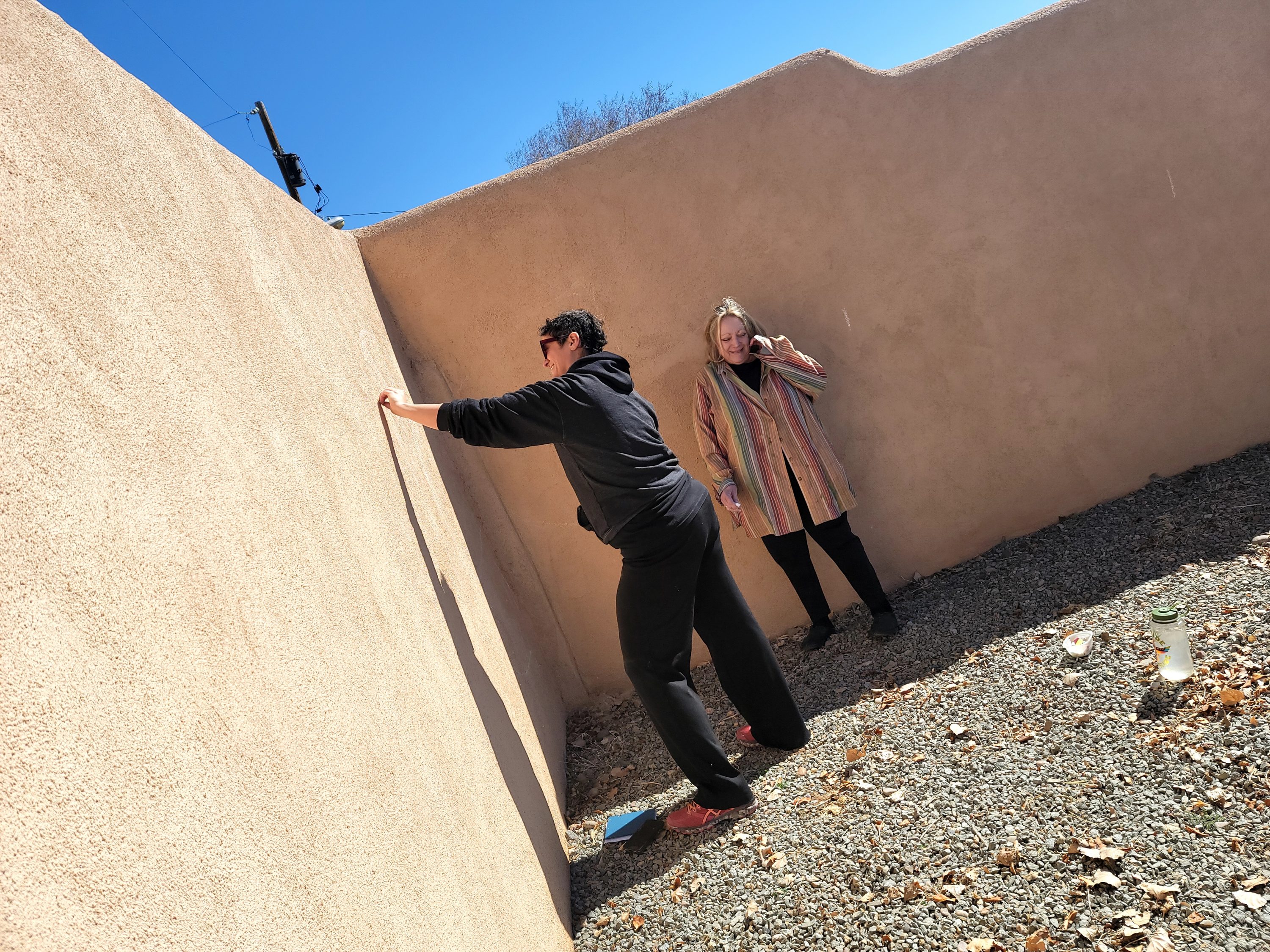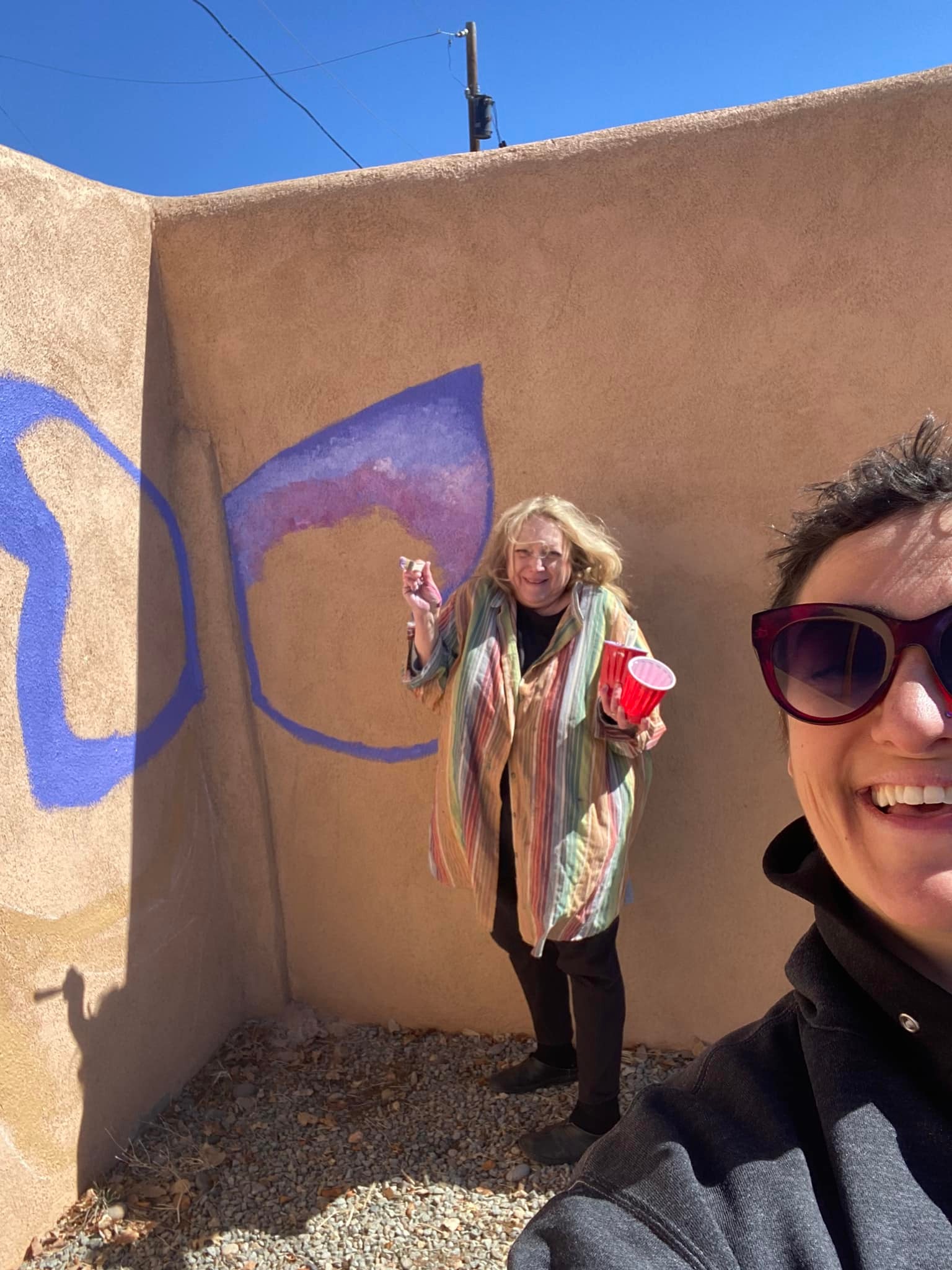 .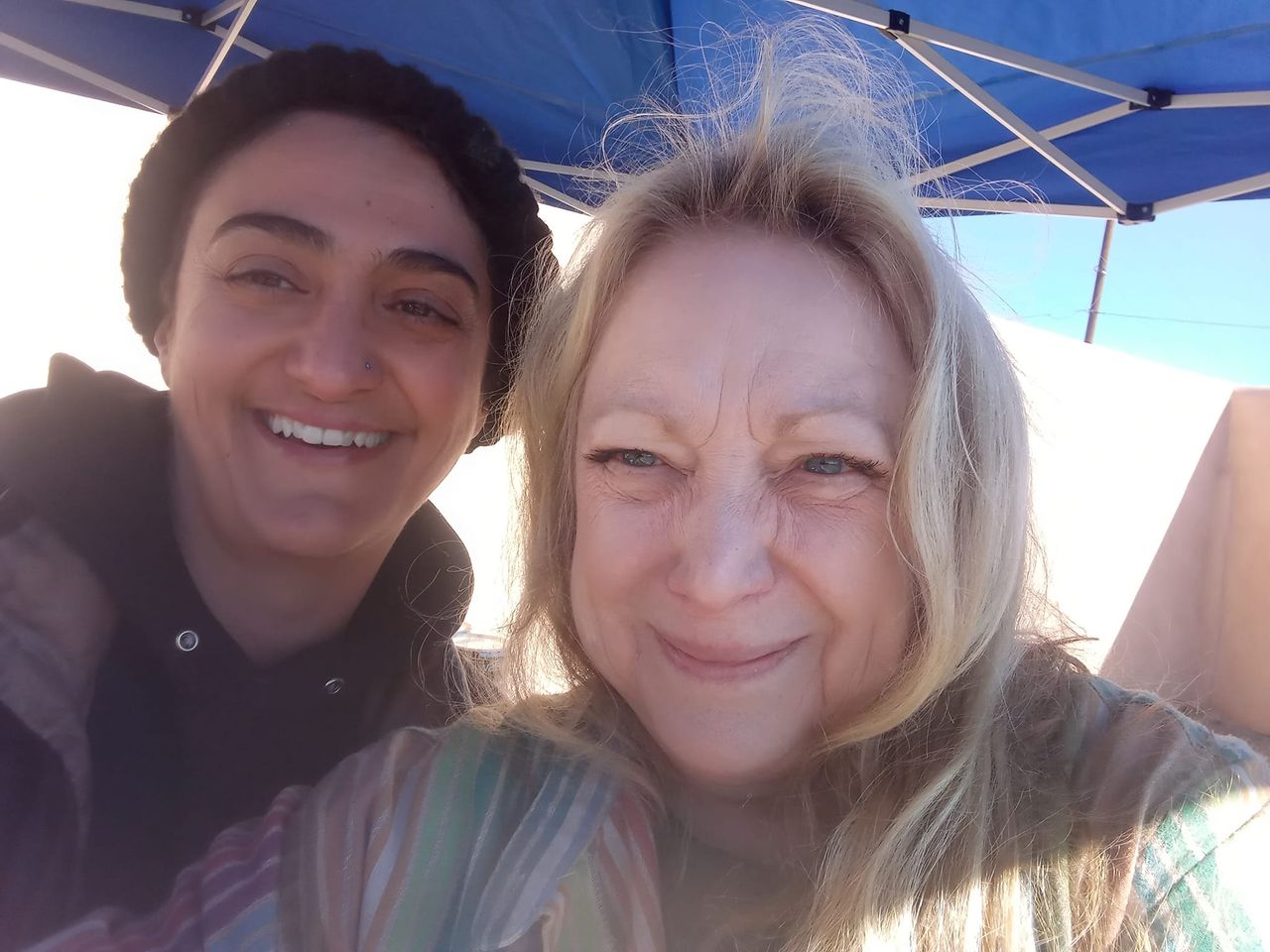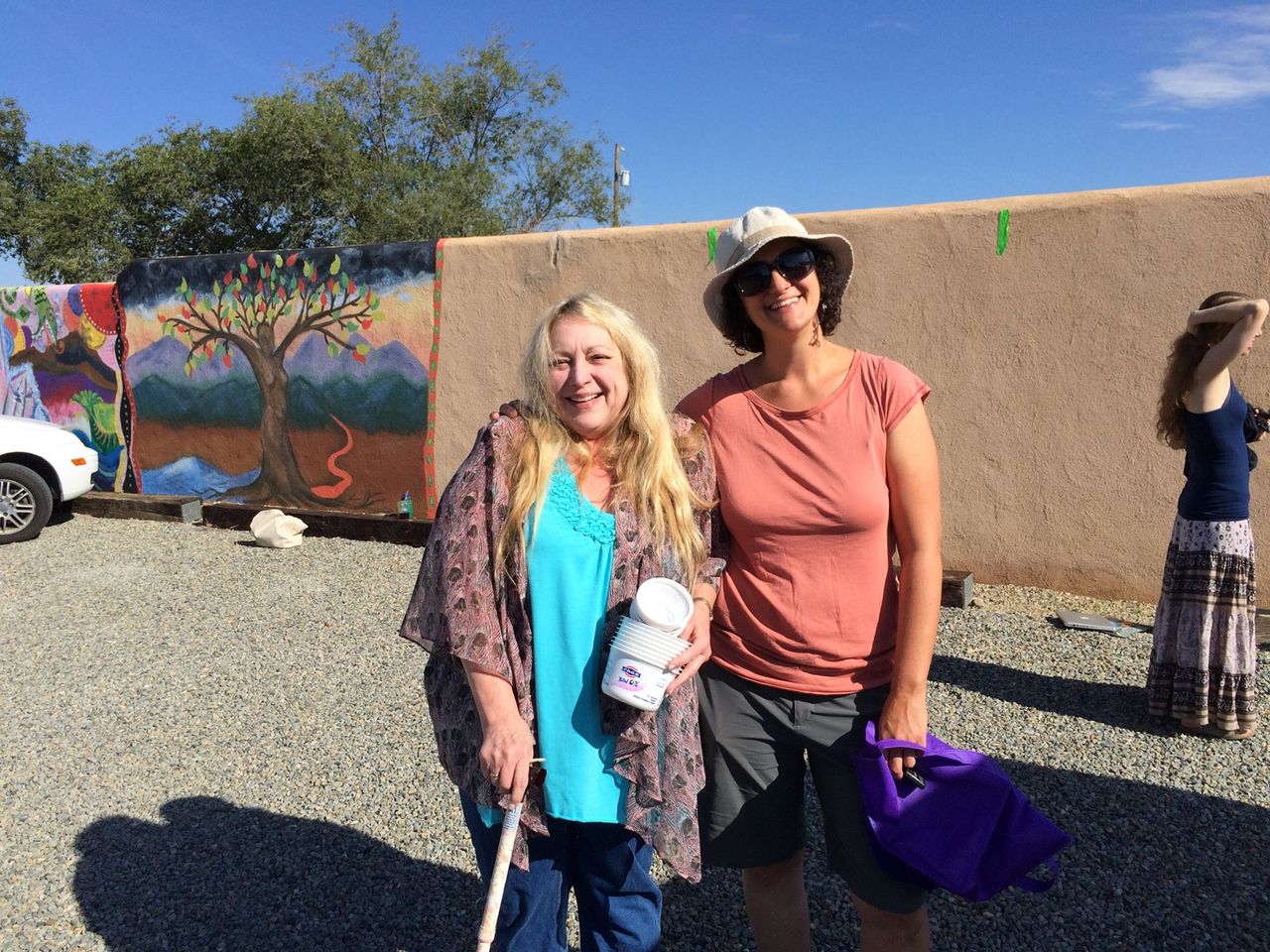 ( The above image is from Summer 2015)
Working with Debbie over the years has been a true gift. Much laughter, many tears, dialogue, compromise and art supplies! I am truly grateful to Debbie for all of her mentorship, kindness, creativity and friendship. As I leave SWC too, I realize that we are at the end of an era at SWC, one that I am grateful to have been a part of.
March 2022 Muralists!!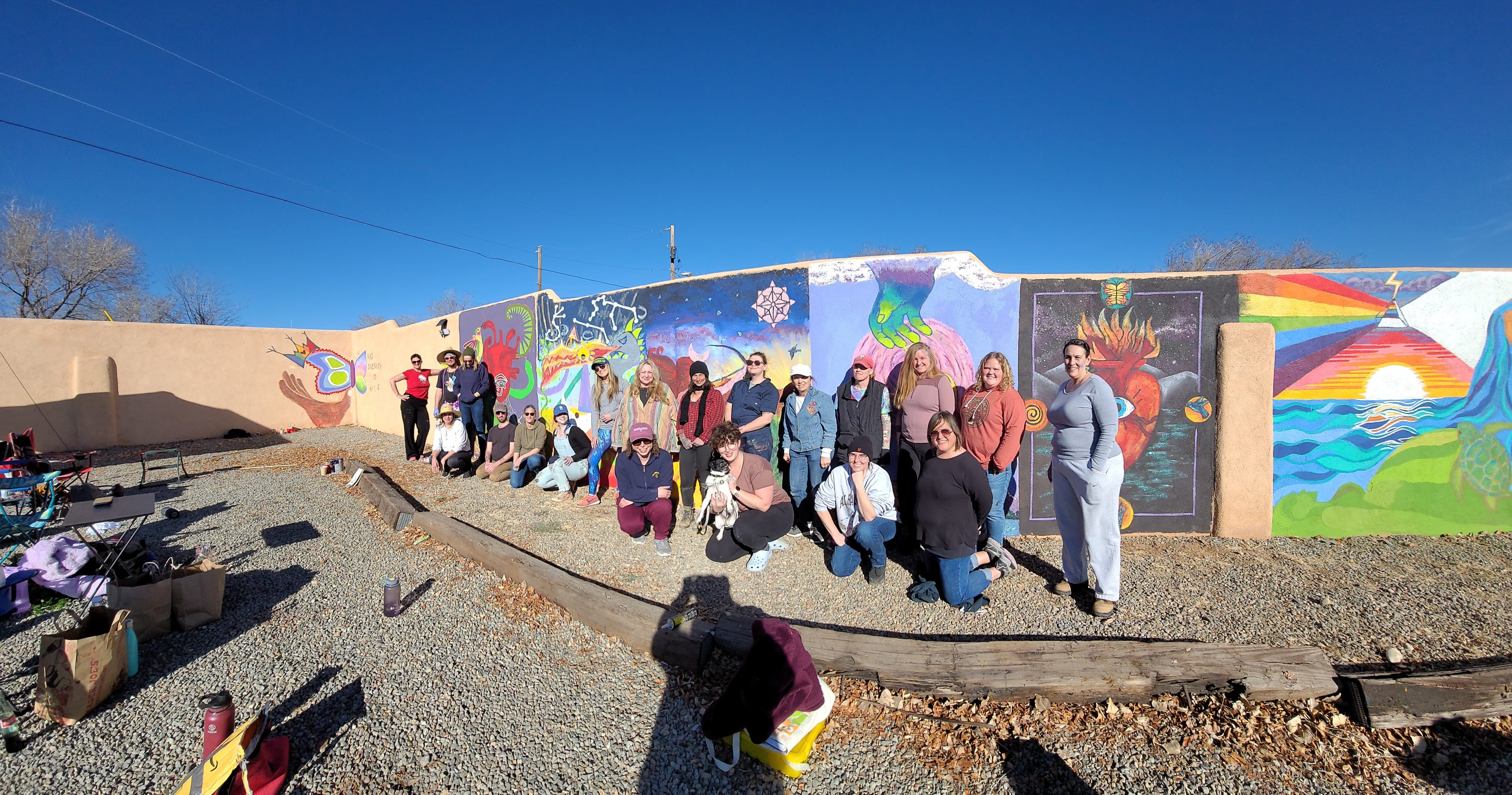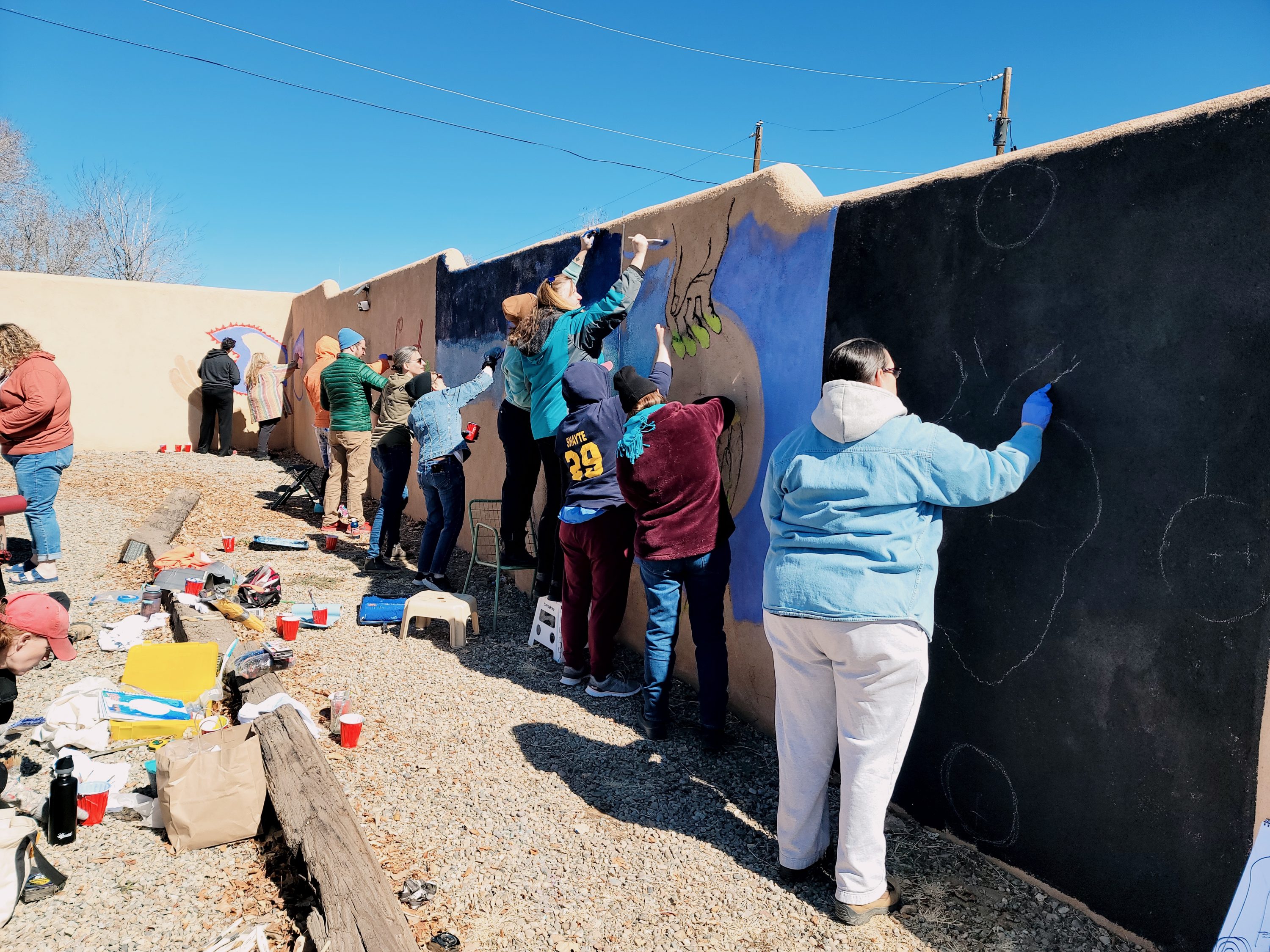 We decided to create our mural through a lived experience of the Art Therapy process. We began by sequestering our group and grounding ourselves through a group meditation. We then discussed our present moment meditation visualizations in tandem with the elements of our previous group ideas, and, through mark making, merged them into a guidepost for our painting process. Just as in Art Therapy, the art process led us where we needed to go. It revealed what was pertinent and exposed what needed to be added. Aspects of our mural include: a hummingbird, a monarch butterfly, a hand with milagros, a sacred spiral, the sacred heart, the four directions. Our mural also gave suggestions to the earth, air, fire, and water. The overall design of the mural symbolized that of a tarot and oracle card. Read more about their process and symbology: Untitled.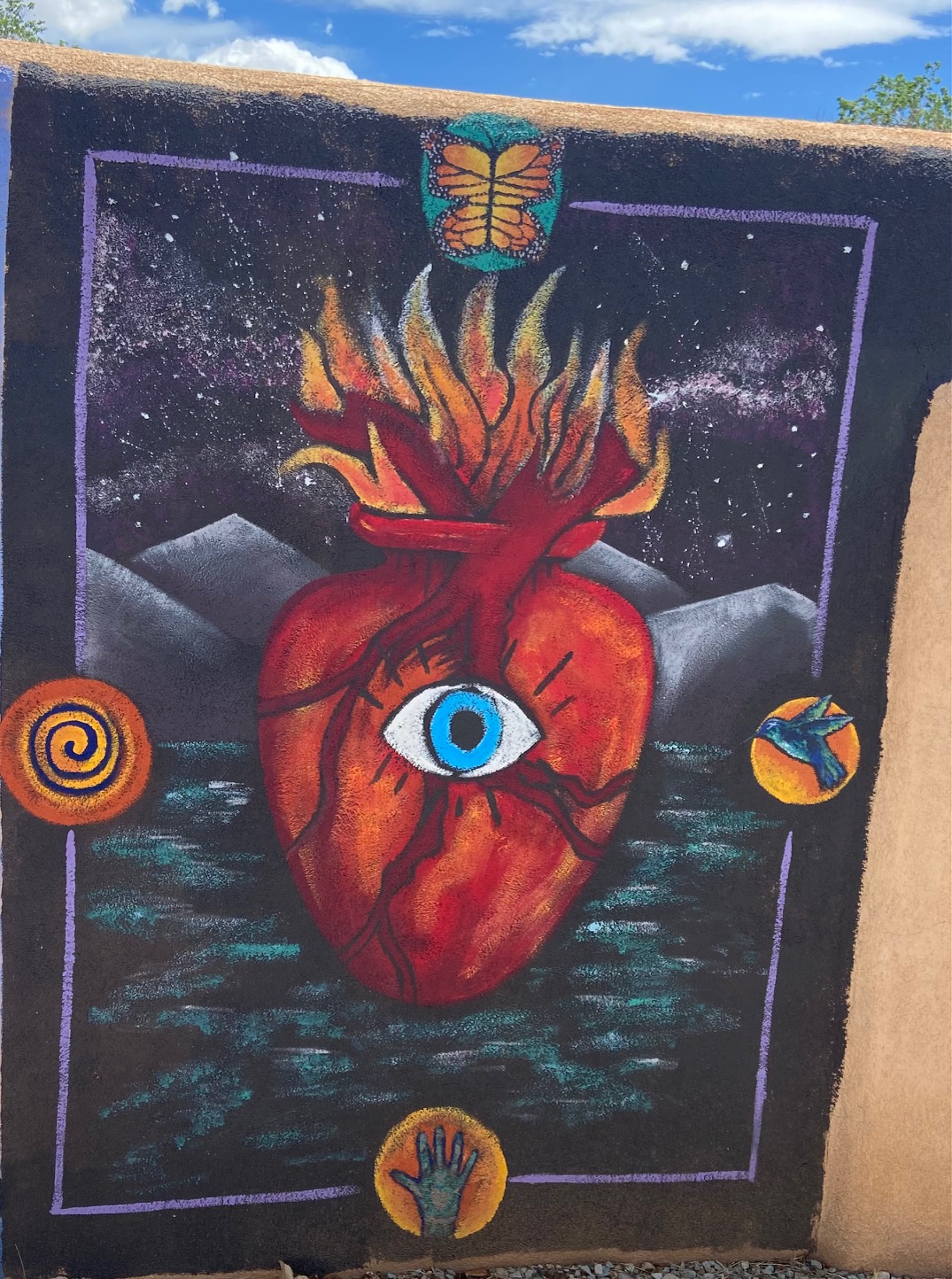 In our mural there are two hands that represent connection and reaching out, and in reflecting on our multicultural classes they also represent diversity. There is a DNA strand that shows a mix of all life, the linear and circular, interconnectedness, and ancestry. The tree and vine represent growth, new beginnings, branching out on our own while rooting down. The rainbow symbolizes the chakras, representing spirituality. The shells are for transplantation and transformation. The city and mountains show a connection to nature and integrate opposites. The water is for renewal. The abstract circle represents energy, free form, fun, and process over product. And lastly the pueblos represent Santa Fe. We hope this mural is well received and that future students can find elements in it that they connect to as well. Read more about their process and symbology: Rooted Connection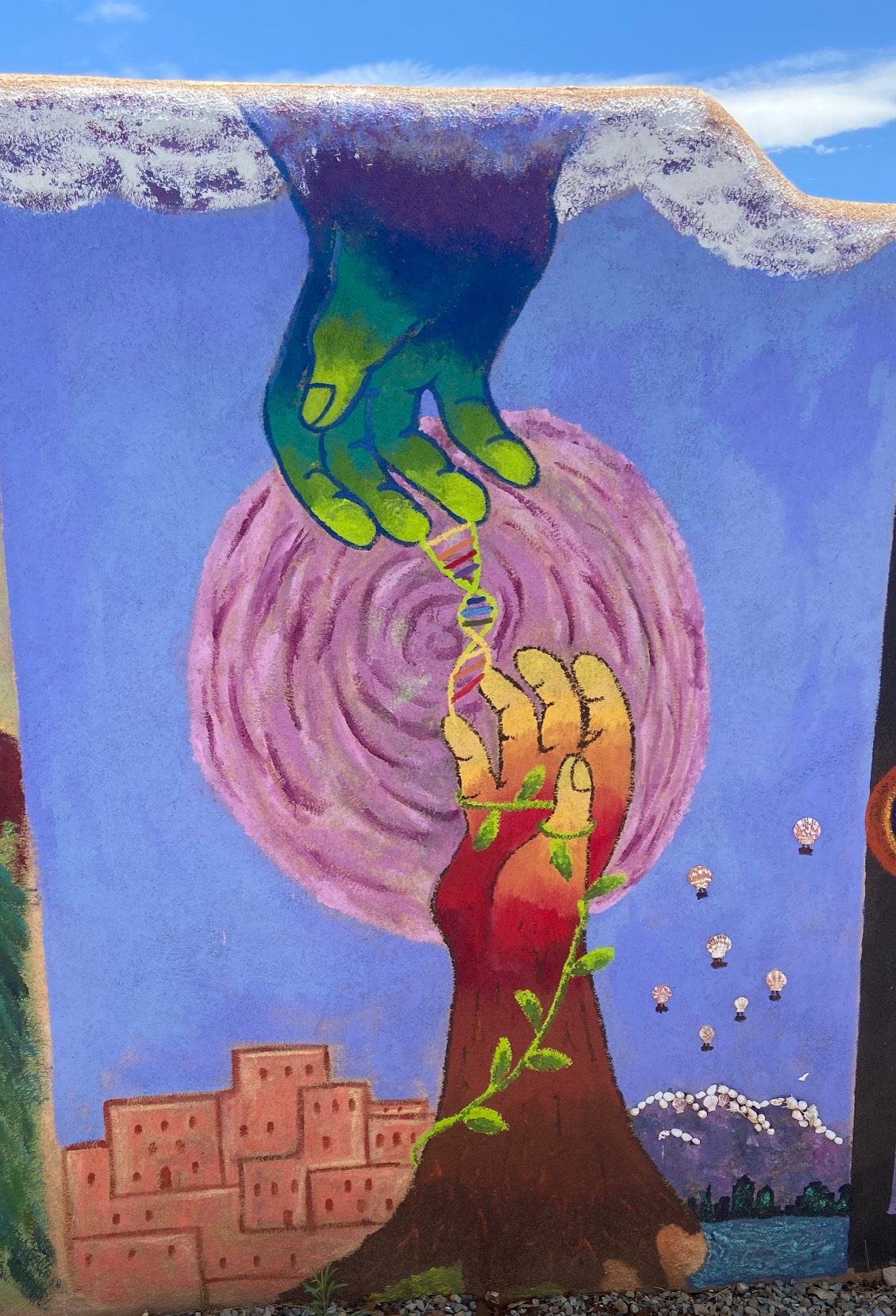 This overall mural image includes a symbolic representation of a female central figure, "Artemis the Hunter." There are mountains in the background, evergreen trees, a silhouette of a bird, a waxing crescent moon on Artemis' forehead, a compass, and light emanating from Artemis' heart. We wanted to depict light coming from her heart to symbolize our central theme of "eye on the prize", with regards to Artemis shooting an arrow towards the compass in the sky. Additionally, we wanted to signify that – moving forward as professional counselors and healers – we want to keep our sight in a healing, wholesome direction in front of us. Specifically, towards love and connection with, not only humanity, but all of life. Read more about their process and symbology: Love Warriors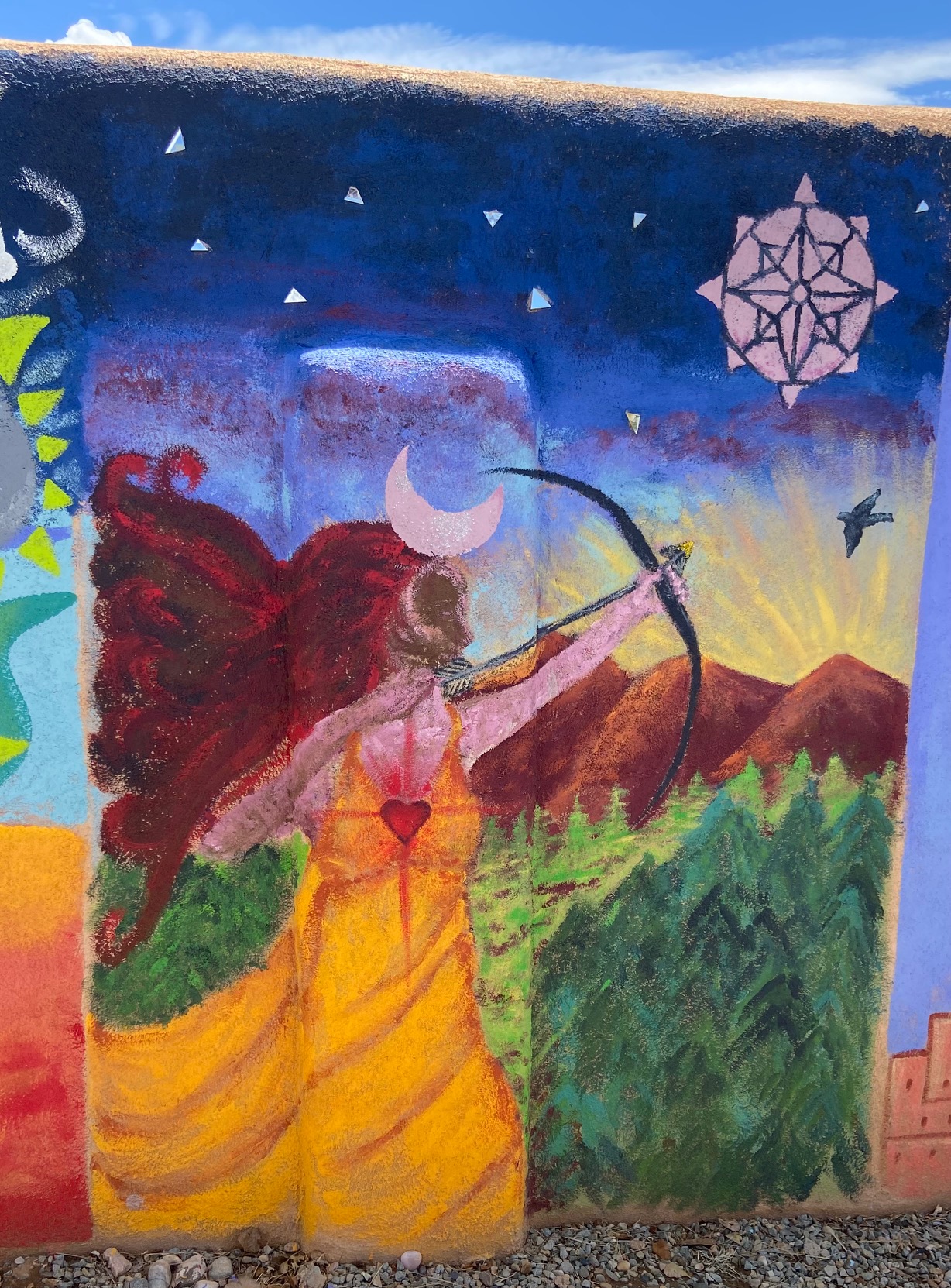 The goal of this mural "Wild Fire" is to communicate the journey that the mural makers have been on, both in their time at Southwestern College and in the ongoing global pandemic, together and separate. Re-growth and transformation happens faster, and can be heartier, after a burn. We hope this mural is received as a time capsule of this difficult moment in time, while also looking toward the future with hope and persistence––always being able to find the beauty in our good work and in our fortunate lives. Spreading love and care like wildfire! Read more about their process and symbology: Wild Fire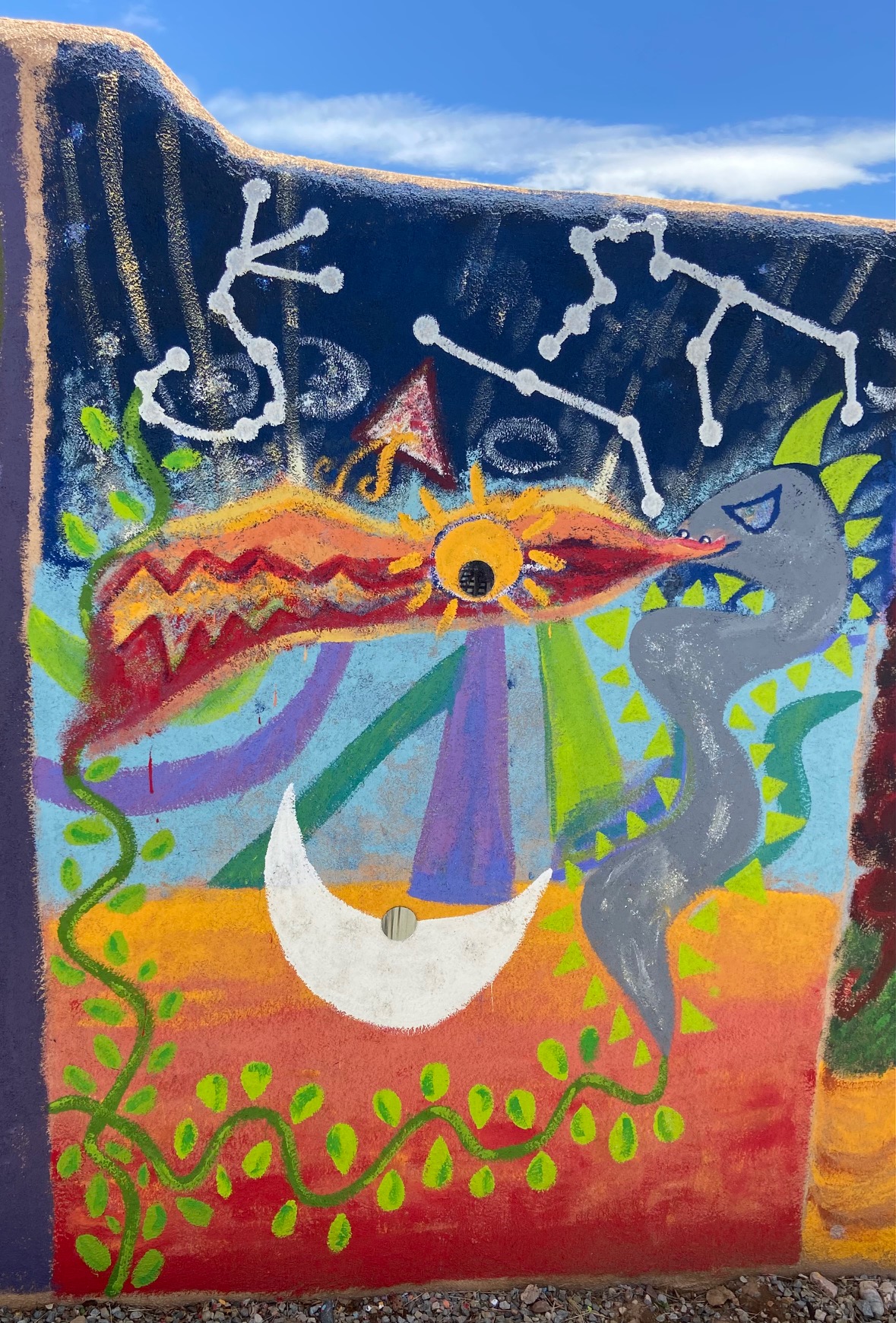 Exposed and vulnerable, the heart rests as the center of our collaborative creation. The hummingbird is drinking the nectar of love and life from the heart that is nurtured by
death and decomposition, completing the death-rebirth cycle and reciprocating with its 4th dimensional potent, pointed medicine of joy. Bringing forth the energy of the fairy felt like the depiction of the inner child, the one who enjoys imagination and flying between realms. Her magic illuminates the truth within all our beings, that we all come from love
and to love we will return.The fiddlehead fern gently unfurls at a pace of its own. Its ancient wisdom is held deep within its stem, leaves and spores that it spreads, contributing to the continuous cycle of birth, life and death. The eye reminds us that there is an eye looking within and looking out to the world. Bones, mushrooms, and a fern sing the cyclical song of birth and death as the snake continually sheds its skin. Read more about their process and symbology:  Heart Story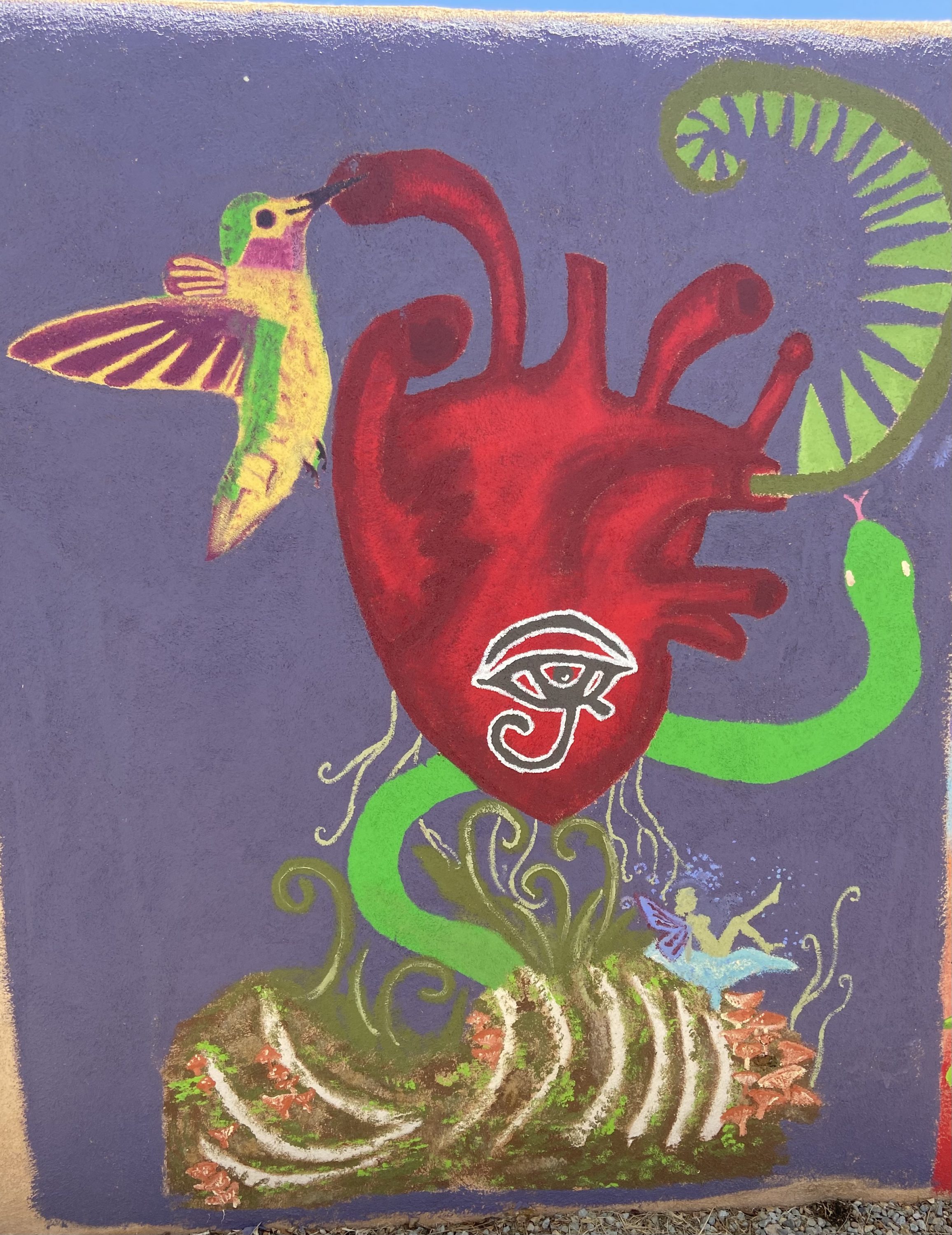 Summer 2021
Last summer we worked on the wall that faces the main building on Southwestern College's campus. This is a tremendous feat! Our students have turned a corner if you will. The murals have made it from the back of the campus, where the Art Therapy building and studio lives, to the front of the campus, to the oldest building on the campus and the entrance.
There are many symbols present in our mural. Most prominently is the earth figure women with one monarch wing and one luna moth wing. The monarch is a symbol that is important to Maddie. It speaks to transformation (the stillness of a chrysalis) trust in the process (caterpillars have no idea what they are in for) and the care of the earth (my experience of caring for these caterpillars all the way through their process). The luna moth wing was incorporated through Beth. It first appeared in archetypal and still continues to be present. It represents following our own truth. Moths who follow man made lights lose their way and can even die running into the lights over and over. Luna moths who follow their true path, the light of the moon, thrive. Being at Southwestern, and becoming an art therapist, feels like following the moon. Read more about the process and the symbology: Taking Up Space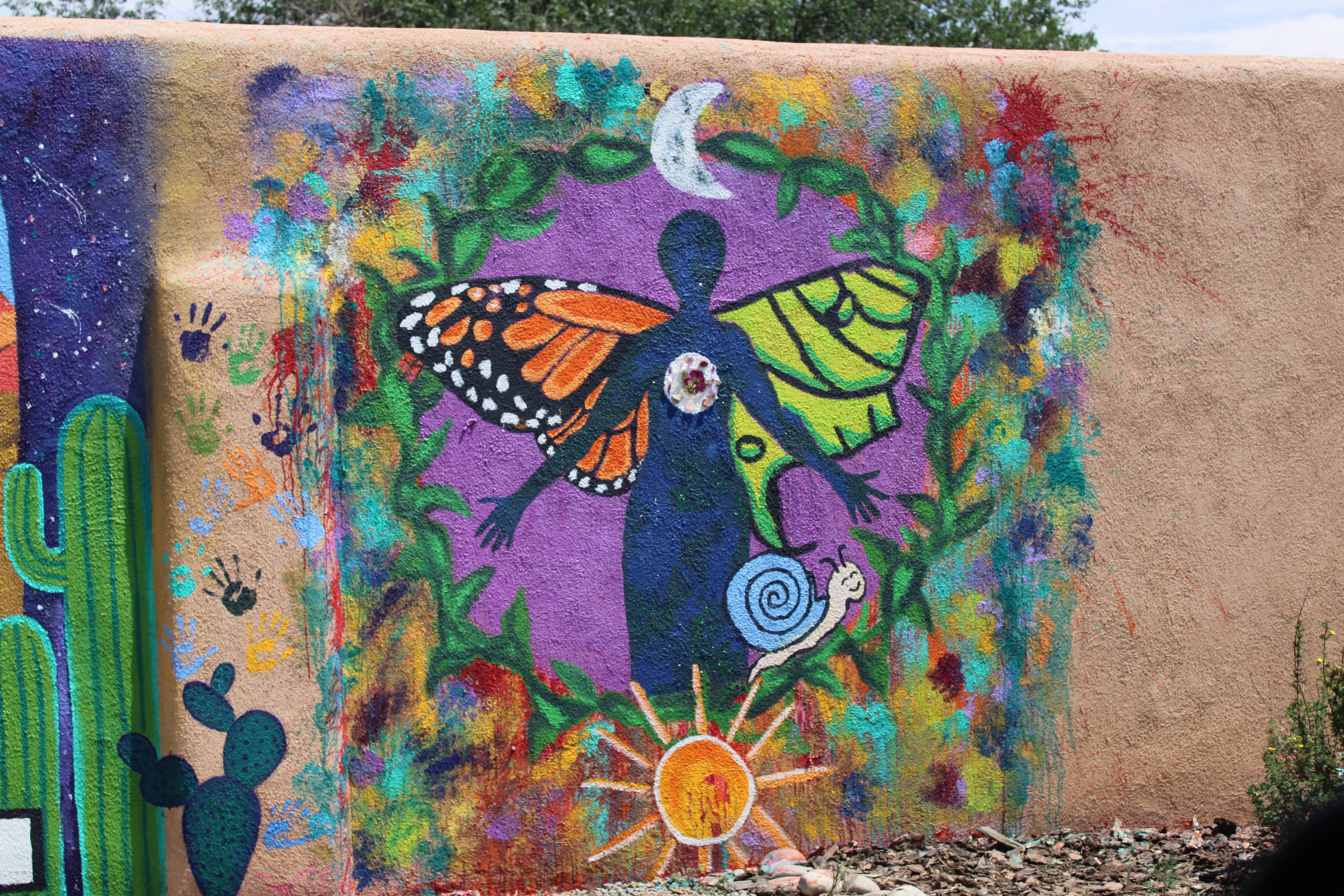 As the saying goes, what doesn't kill us makes us stronger, as we are wounded and reborn, we have the potential to re-member and reclaim our true power: this is the symbolism of the black panther. In our mural she is in familiar territory having once roamed the southwestern deserts. Unlike the solar tiger or lion, she is with her feminine lunar elements of the night sky and crescent moon (in mythology it is said to cause eclipses by swallowing the sun). She guards and at the same time embodies the seductress, the warrioress, the seeress, and the old wise woman. Panthers are gifted with a deep inner knowing from birth; hence the healer's eyes are downcast but her panther's gaze is direct, seeing reality for exactly what it knows it to be behind the illusion. With the healing of old wounds, we can reclaim the power that was lost at the time of the wounding and awaken to the quest for truth and meaning. Similar to the lizard, the panther is twice reborn. It is the promise that whatever we lose or choose to let go of will be replaced by that which is greater, stronger, and ultimately more beneficial. It is my/our intention that this mural will serve as a visual reminder of the intricate and constant play of dualities that we will encounter on our journeys and in our lives. And the hope that future students/seekers will discover their innate potential for healing and rebirth, to reclaim that which is true within themselves, and have the beautiful, audacious strength to guide/inspire others to do the same. Read more about the process and the symbology: The Wounded Healer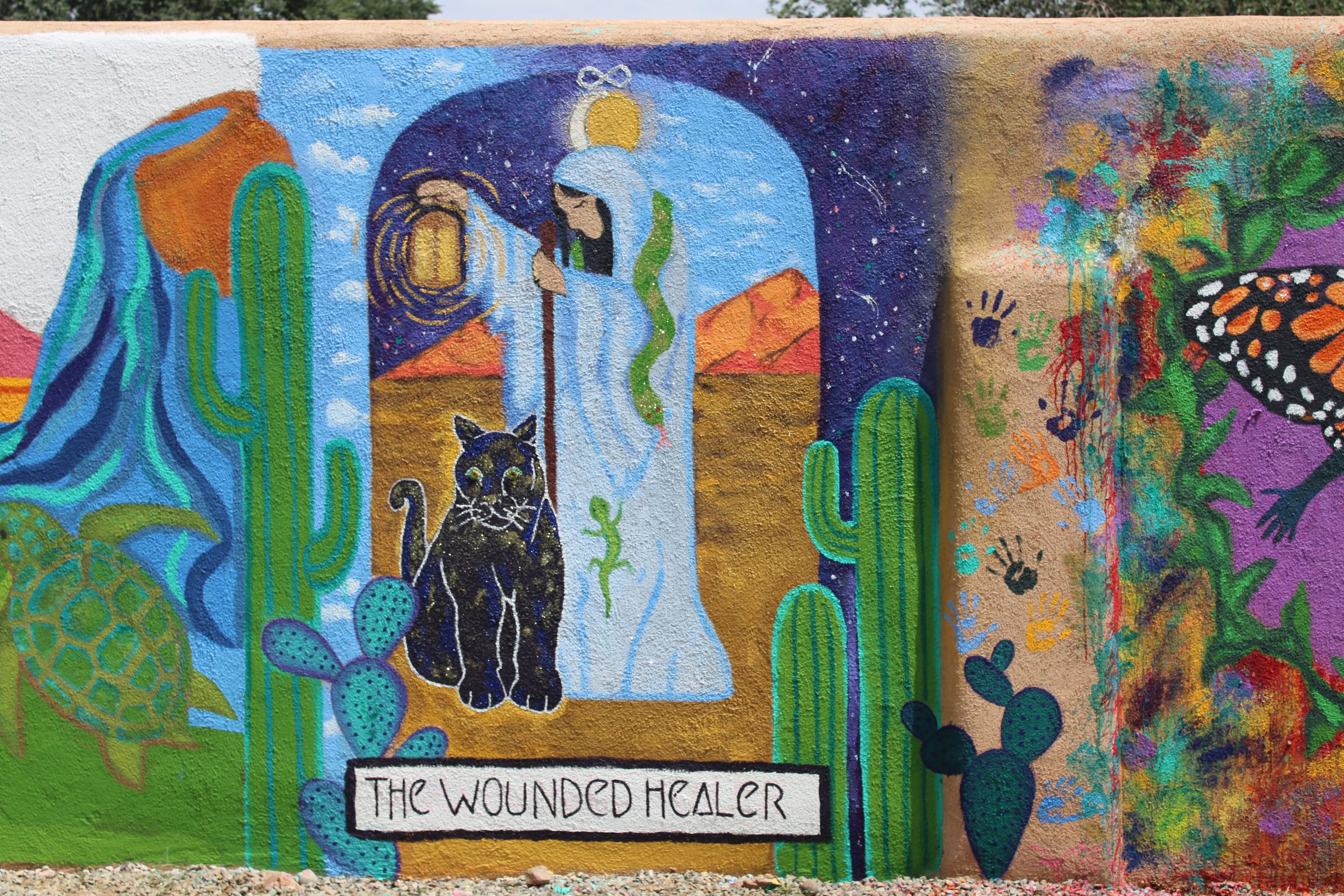 Our group agreed on many different symbols to incorporate in the final mural based on the elements of nature that we enjoy and what had been meaningful to us while at SWC. Read more about the process and the symbology: Earth Mother, Thunder Spirit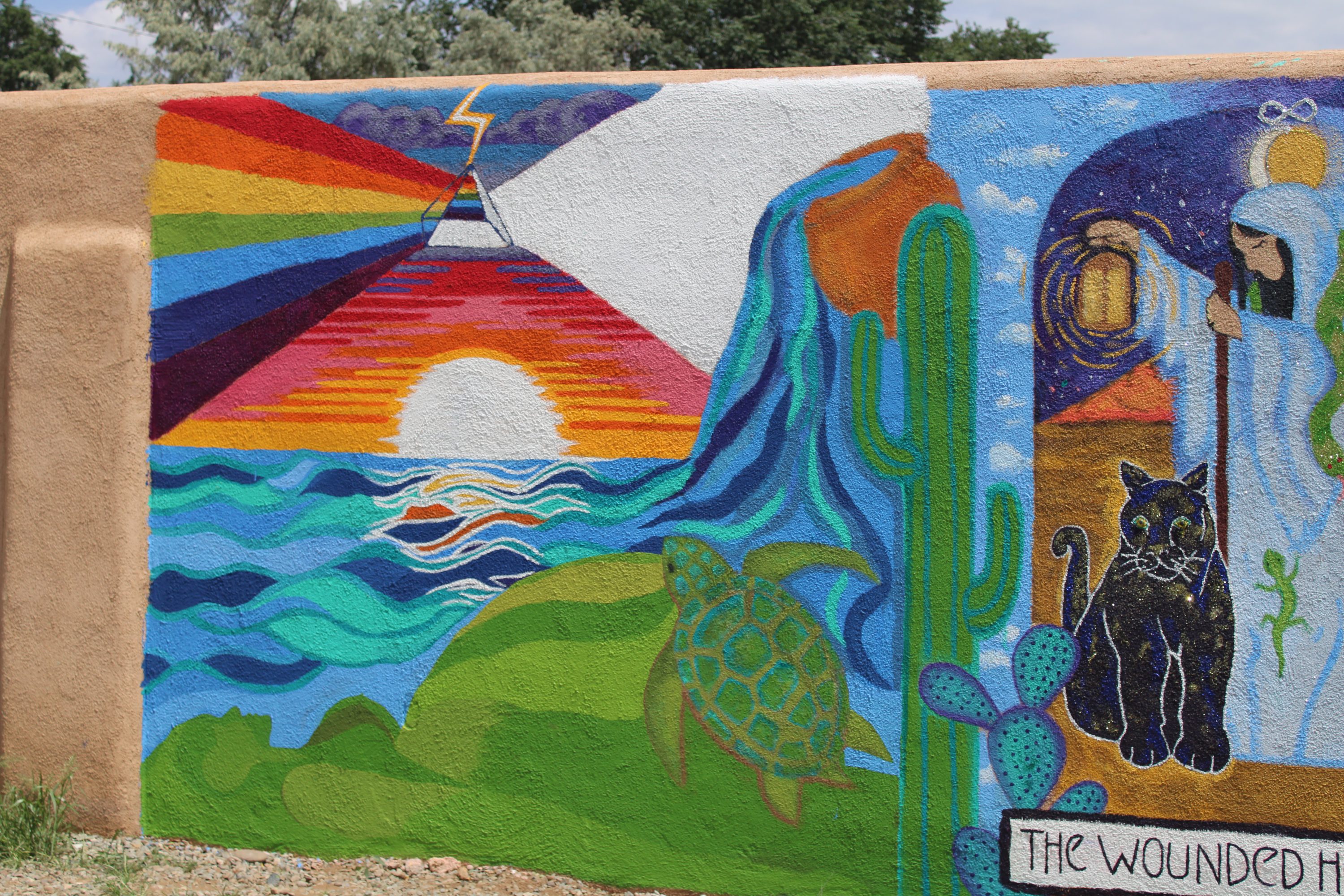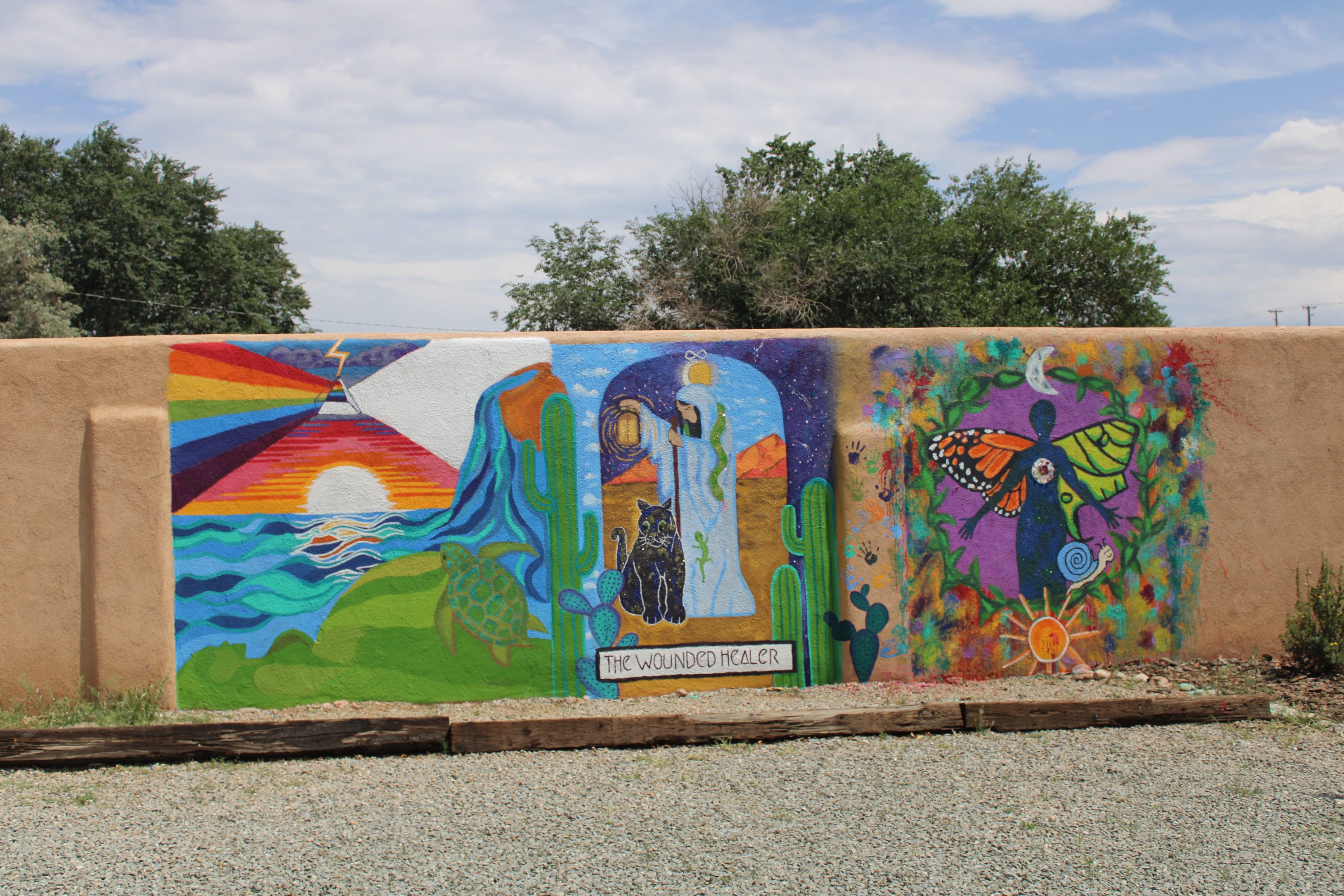 About the Moderator